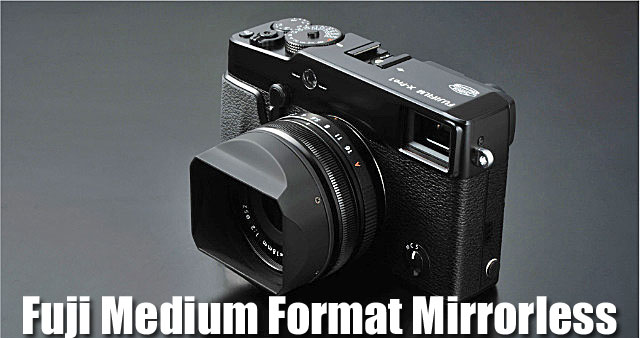 According to latest rumors Fuji is working on Medium format camera and they may announce it in near future, but keep in mind that its a rumor only since on December 26th, 2014 Fuji representatives said to DCWATCH website that [see here]
Fujifilm Medium format, Full Frame, and Organic sensor are not coming yet. They also cleared that medium format and fullframe mirrorless camera are not on their road-map.
May be Fuji wants to create a confusion in the market until the product is ready for launch, we will update you soon as we get any new information.
---
Updated
The U-turn – According to a article published over here (on Jan 20, 2016 @ 05:11) Fuji hinted that they are interested in developing medium format system camera. Take a look at the part of interview
Takashi Ueno senior product planner for the Fujifilm X Series and a Hasselblad Master has personally  confirmed the R&D of Fuji medium format camera in an interview
"We are in a very good position to make a medium format camera, as we make camera bodies, sensors and lenses," says Ueno,. "We already make the lenses for Hasselblad, so we have that expertise."
So just cross your fingers and wait for development announcement, Photokina 2016 may the best place to announce new products by Fujifilm.
STAY WITH ON FACEBOOK | TWITTER | GOOGLE+ to get live news + Fuji rumors 24X7
src – FR.com