After the announcement of Fuji XF200mm F2 Lens they have also announced a roadmap of upcoming lenses. And according to the road-map there are two lenses, XF16mm F2.8 WR and XF16-80mmF4 R OIS WR, which are due to announce on the 2019 and one lens XF33mmF1 R WR is schedule to arrive somewhere around 2020. Yes, the XF33 mm F1.0 is first Mirrorless lens in the world made for Fuji cameras and features F1.0 aperture.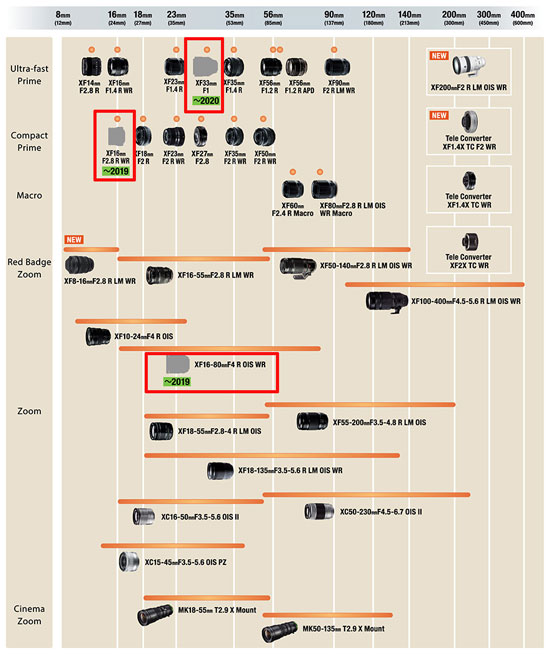 click here to download high-resoltuion image file
By announcing road map of lenses Fuji film always does a great job. Based, on the road map you can clearly see the list of lenses expected to arrive in near future, that will sure going to encourage new users to get a Fuji system camera. In a Press statement, Fuji also said that they will going to boost up the production of lenses up to 70%.
At the end I am going to say that Fuji must also put some of its attention in announcing affordable lenses for entry level users those who are purchasing the XT 100 camera or x A5. If you are going to buy the Fuji 50 mm lens then the price of that lens despite having weather sealed feature is too high compared to the Canon 50 mm lenses for even Nikon's. Same in the case of 18-135 MM lens, Fuji lenses are way too expensive compared to the DSLR lenses. So, my only request to Fuji is this should put some of their attention in creating lenses for entry level users.