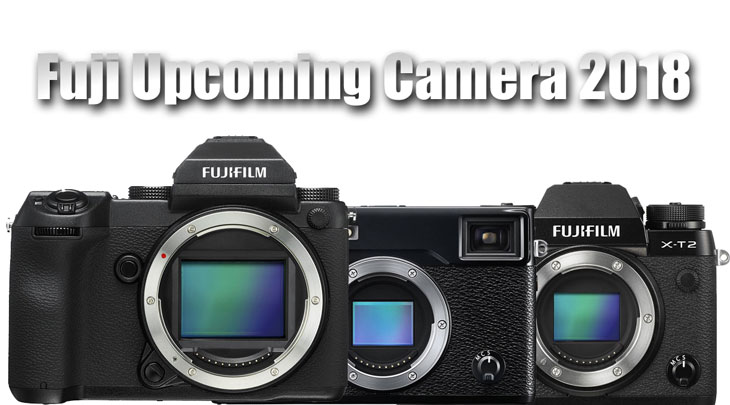 A detailed look at the list of upcoming Fujifilm camera. In the year of 2018, Fuji look very well prepared for the bunch of announcements. Take a look details below
Fuji X-T100 camera is also coming on May 24 2018. According to the reverse the camera is one of the most affordable camera coming under X T Series of Fuji. The camera will have a bayer sensor instead of X trans CMOS autofocus sensor. Well we already have the Fuji XA5 camera it's really interesting to see that how does it really differs from existing entry level mirrorless camera of Fuji.
Fuji is rumored to announce a new camera named GFX 50R. The R version is actually a affordable version of the existing Fuji GFX-50S camera. The 50R will carry same 50Megapixel sensor as of 50S camera with some added specification at an affordable price. Under $4k (approx).
Fuji wants to keep circulating the 50MP sensor sensor in the market, And that will sure help them to kill the flagship DSLR sales by offering a Medium Format sensor at a price tag of 1DX Mark II and D5.
More confirmations: According to latest rumours Fuji GFX 50R camera will going to arrive just before photoKina 2018 event while having a price tag of somewhere less than $5,000 as we have told you earlier.
Fuji X-T3
Fuji X-T3 camera is also expected to arrive in end of 2018 possibly in the September event because photokina is one of the best place for camera manufacturers to showcase their best products. The Fuji X-T3 camera is rumored to feature completely brand new super fast image processor to support 4K videos at 60 frames per second, and Fuji XT-3 camera is also expected to have faster continuous shooting speed with advance AF system. We will going to update you soon as we get any new information.
Well we are glad to inform you that the Fuji X80 camera is suffering from a name change and its new name is Fuji XF10, if we believe latest rumors coming from trusted sources, the pro compact camera is also scheduled to arrive in 2018. I personally believe that Fuji will going to give 4K video recording with the accept 10 compact camera, and it will going to have a 20 or 24 megapixel X-Trans CMOS autofocus sensor.
Fuji XP130
Fuji XP130 is actually a compact rugged camera that deserve our attention. Fuji XP130 camera, The upcoming camera is a successor of Fuji XP120 camera. We are expecting the upcoming Fuji XP 130 Rugged Camera will going to have a 4K video mode. The name of XP130 camera surfaced via Bluetooth certification agencies. In general after one or two months of registration the products arrive in market, So we do expect its announcement on Q2/Q3 of 2018.
---
Fuji 2019 Announcements
Fuji GFX100S (2019)
We are the first website who told you that next version of Fuji Medium Format camera will carry 100MP BSI CMOS sensor. The biggest reason behind our statement was a simple logic instead of imaginary source. Sony and Fuji have a long term relationship from past, GFX 50S is using Sony MF Sensor. Few days ago Sony PR alert informed us that they are working on a 100MP (FI and BSI) sensor as well as 150MP BSI Sensor too.
And at the same post we have told our followers that Fuji next camera may carry 100MP sensor from Sony. After a week a bunch of websites  with citing multiple source published the same without putting our reference.
Introduction of X-Trans IV (2018)
It's a trend from past that Fuji always introduces its new generation of X-Trans CMOS sensors with their X Pro series cameras. So, we do believe that the upcoming Fuji X trans sensor will going to arrive inside the Fuji X-Pro III camera sometime in Photokina 2019. That will carry X-Trans IV sensor and advance core specification for Cinematographers as well as Still shooters. Take a look at the X-Trans sensor timeline below.
Sensor Model
Number of effective pixels
Total number of pixels
Sensor size
First announcement date
X-Trans
16.3 MP
23.6 mm x 15.6 mm (APS-C)
9 January 2012
X-Trans II
16.3 MP
16.7 MP
23.6 mm x 15.6 mm (APS-C)
7 January 2013
12 MP
14.5 MP
2/3-inch
7 January 2013
X-Trans III
24.3 MP
23.6 mm x 15.6 mm (APS-C)
14 January 2016
X-Trans IV
 unknown
 23.6 mm x 15.6 mm (APS-C)
 Sep 2019
Follow Fuji Rumors on Facebook
STAY WITH ON FACEBOOK | TWITTER | GOOGLE+ to get live news + Fuji rumors 24X7