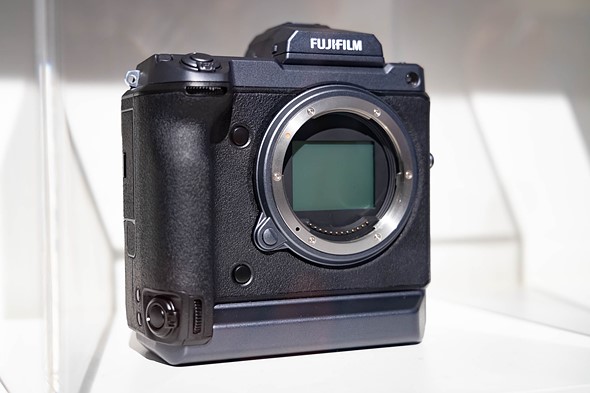 Development Announcement from Fuji: Finally Fujifilm is developing their flagship 100 megapixel medium format mirrorless camera, you can say it's ultimate gfx series medium format camera, which is schedule to arrive in the year of 2019 with a very high price tag.
One of the most interesting thing that we have seen in the prototypes  The camera do features 5 Axis image stabilization system and phase detect autofocus pixels inside the hundred megapixel medium format sensor.
One of the most important thing that we have already seen the medium format sensor announcement from Sony in the past year,  but those 100 megapixel medium format BSI CMOS sensors or you can say the hundred 50 MB BSI CMOS sensor doesn't feature built-in phase detect autofocus pixels.
If Fuji film is promising for Phase detect autofocus system in there medium format camera, it's a clear indication that they have self develop their sensor with their own homegrown Technologies.  Possibly the GFX camera will be the first to carry a medium format X-trance sensor, And personally I would love to see X- trans medium format sensor performance when compared to earth medium format BSI sensor performance in near future.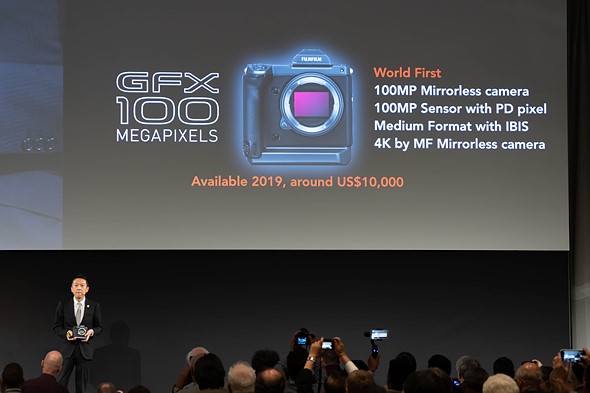 One of the most important thing to know that the camera is also capable to record high quality 4K videos. And at the same time you will have a blazing fast autofocusing speed while creating your 4K videos, thanks to the built-in Hybrid AF Sensor.
And finally we have also got a confirmation from Fuji representatives that all the possible set ofGFX lenses present now and expected to arrive in near future are  fully capable to resolve 100 megapixel resolution without an issue.
So, finally we are having a very competitive player in the medium format Battleground, and the space is still empty because we have hasselblad we Phase one but none of them have any promise things system like Fuji GFX system.
We do got some rumours that Phase one is also developing their lineup of medium format mirrorless camera but it still about to be confirmed.
Now one of the most disappointing thing related to the announcement of the so-called hundred megapixel medium format camera is its price, she said the camera will going to cost $10,000 which is of course very high,  but at the same time if you compare the cost of the camera with the existing medium format professional solutions available via Phase ONE and hasselblad then you will find it reasonable.
we will update you soon as we get any development announcement or leaves related to the upcoming hundred megapixel medium format camera from Fujifilm.
you can help us if you love our work
If you really like our work – Consider a Monthly Subscription (as low as $5 a month)
join us why you are waiting?
Join our Fuji Facebook Group
STAY WITH ON FACEBOOK | TWITTER | GOOGLE+ to get live news + Fuji rumors 24X7
Source and image credit dpreview