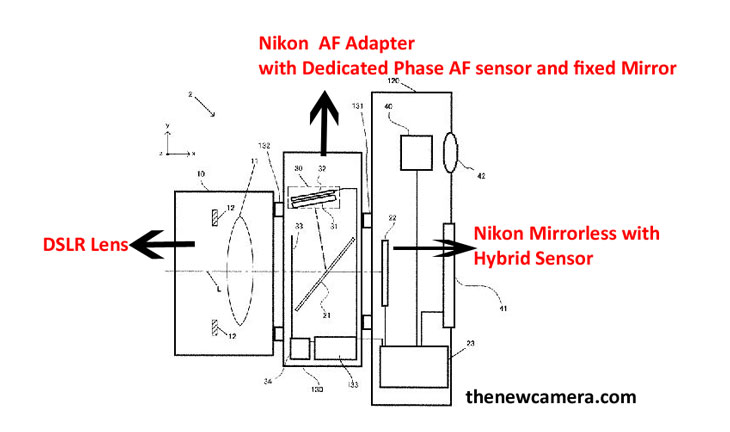 Nikon done a bit complex patent, in the image above you can see that Nikon is working on compact Mirrorless system with Hybrid sensor. The figure shows the camera adopt a Hybrid AF adapter built in Pellicle (Transparent) Mirror and a dedicate phase AF module. With the use of Hybrid AF adapter Mirrorless system camera will get converted into DSLR system.
The AF adapter will compensate the flange distance and will allow you to use traditional DSLR lenses in your APS-C or FF Mirrorless camera.
Nikon Hybrid Sensor for Mirrorless Camera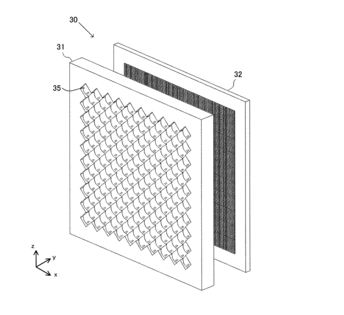 The image taken from Nikon patent document that shows a Hybrid PDAF sensor. We do expect that the upcoming cameras (including DSLRs and Mirrorless) will feature Hybrid sensor for enhanced AF support.
Nikon Patent Details
[Publication No.] JP 2017-138624 (P2017-138624A) Crick Here
[publication date] 2017 August 10 (2017.8.10)
[invention [ Image pickup device] [Focusing detection sensor PDAF sensor] [Intermediate adapter Mount adapter] Although the intermediate adapter of the application is similar to Sony's LA-EA 4, it seems to detect the phase by the area image instead of the line sensor. This mount adapter looks like Sony's LA-EA 4, but with PDAF area, not line, image sensor.
Stay with us and we will update you soon as we get any new information.