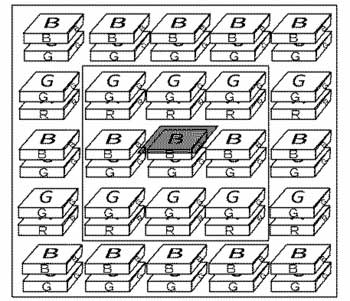 Sigma Patent a Dual layer Foveon for the first time, in general Foveon sensors are made up of three layers. According to patent documents the new sensor will improve the readout speed of the sensor.
Sigma Foveon sensor Details Patent Details
[Publication number] Japanese Unexamined Patent Application Publication No. 2018-195961 (P2018-195961A) click here
[Publication date] December 6, Heisei 20 (2018.12.6)
Image processing signal method, image signal processing apparatus, imaging apparatus
Each pixel has two layers of "B and G" or "G and R" as shown in a figure of embodiment.
We will sure see some improvements in low -light performance and readout speed of Sigma sensor, as we all know Foveon sensor are too good at base ISO but when you reach ISO 400 you can notice noise in your image and even ISO 1600 is bit unacceptable from a Foveon sensor. To solve this issue Sigma removed a layer from sensor and rearranged entire pixel structure. Hope to see some good cameras from Sigma in near future.
Follow us on our social pages  FACEBOOK | TWITTER | INSTAGRAM to get live news + Sigma Patents