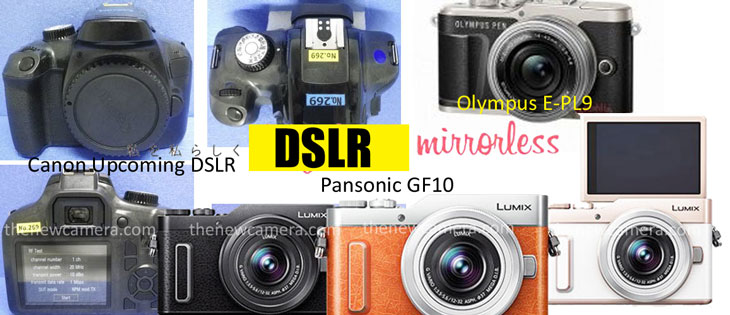 We have created a list based on latest rumors we have published here on thenewcamera website, we have added all the possibles names starting from some of the most confirmed set of announcements that include Panasonic GF10, Olympus E-PL9 and after that we are also inducing camera names with may be announced this month or next…
1. Olympus E-PL9 camera on 2nd week of Feb
We have already seen the leaked images of Olympus E-PL9 camera and we are the first to break out its specs. The Olympus E-PL9 is coming on 2nd week of Feb (possibly on Feb 7)
Panasonic GF10 is coming on Feb 22, 2018.  The camera already announced in Japan and expected to be announced on worldwide on Feb 22. This small camera captures 4K video at 30fps upto 29 min and you can also capture decent still shots with 16MP M4/3 sensor and ISO upto 25600 See more here.
3. Canon entry level DSLRs and Mirrorless
We have already seen Canon 1400D / Kiss X90 entry level DSLR already cleared the FCC test and in next few months we will announcement for sure.
Canon EOS M50 also registered at wireless certification agency and expected to announce in next few months.
Canon 2000D: The Canon 2000D coming in three different variants (having different kit lens and body ). The canon 2000D name surfaced by worldwide wireless certification agencies and the camera is also listed in our upcoming camera code name list
Compacts – Canon G5X Mark II is also rumored to arrive sometime in February 2018.
4. Panasonic GX9 Coming soon…
We were the first to tell you that Panasonic GX9 camera pipeline stock is dried-up, after that we have received confirmed set of information that Panasonic GX8 sucessor coming  very soon. So, we are expecting  its announcement in next few months along with  TZ 200 compact camera.
5. Nikon D3500, Nikon D650 and Sony A7 III
Sony A7III, Nikon D3500 and Nikon D650 camera are overdue for an update and announcement of these camera are expected to be done in Q1 or Q2 of 2018, So we are considering the names of the camera in our Feb announcement list also.
Subscribe to FACEBOOK | TWITTER | GOOGLE+ to get live news + Camera Rumors