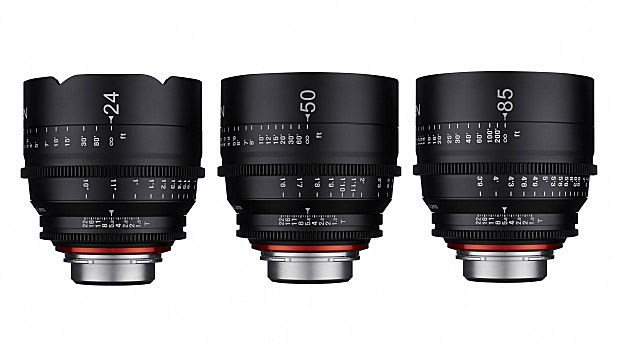 pre-order at B&H Photo Video
Rokinon announced a series of three latest cinema lenses namely Xeen 24mm T1.5, Xeen 50mm T1.5, Xeen 85mm T1.5. All these lenses are available for Canon EF mount, Nikon F mount, Sony E-mount, M43 mount.
All the three lenses have common features and there is no difference in their specification and performs according to its compatibility. Each lens in the XEEN series has common focus and iris gear ring at perfect positions which is sufficient to fasten the settings of the lens changes. Its internal focus is designed in such a manner that during focusing, the size of the lens remains unchanged.
As each lens is multi-coated, this favors better contrast, glare prevention, and magnificent color combination during capturing subjects.

It is useful for both full-frame cameras as well as camera with small formats. However these lenses are made for full-frame sensor camera so you will notice the crop-factor issue while using them with APS-C or 4/3 format sensor.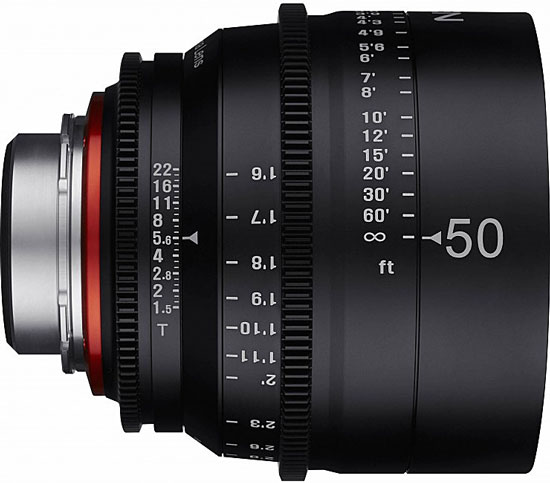 The lens features metal construction to withstand the rigors of daily production, and it incorporates a support that can help take strain off your camera's lens port. The focus ring rotates 200° from close focus to infinity; which results with a high degree of precision and consistent focus.
All the three lenses have the common 114mm front diameter which allows for quick lens changes as there is no need to swap out anti-reflection donuts or adapters. The non-rotating front allows you to use optional clip-on matte boxes.
The entire three lenses features "Clickless" aperture ring for smooth iris pulls.
The one thing which is different for all the three lenses is the minimum focusing distance due to its different opticl elements and focal length of the images.. A minimum focusing distance of 24mm T1.5 lens, 50mm and 85mm lenses are 10", 18" and 3'9" respectively , which allows the users to get up close to their subject so that they can capture the best imagery of the subject .
As we have said above all the three lenses are available for Canon EF mount, Nikon F mount, Sony E-mount, M43 mount. The users can book them now through pre-order via B&H Photo Video
It is expected that all the three lenses will be available on August 13, 2015. The cost of each lens is $2,495.00.