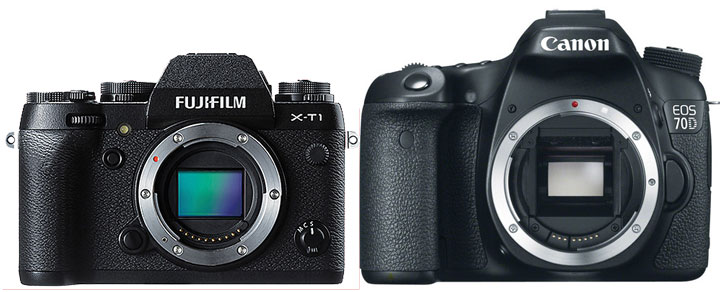 Fujifilm X-T1 vs Canon 70D, Fujifilm X-T1 is a high-end mirrorless camera and Canon 70D is a high-end DSLR camera, take a look at the comparison below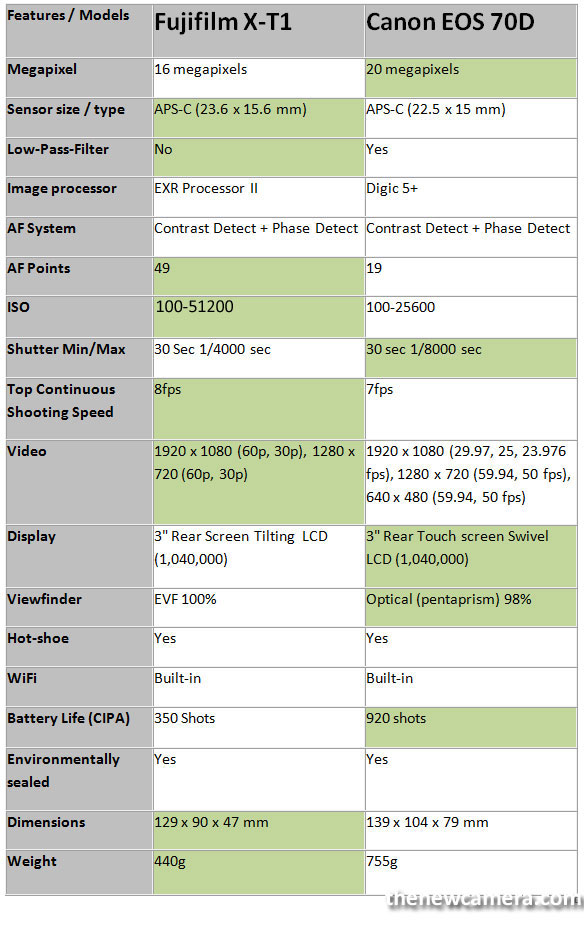 Sensor
Fujifilm X-T1 features X-trans AF sensor with dedicated phase AF points in it + due to bespoke pixel array design the X-T1 doesn't need low-pass filter.
Canon 70D have Dual-pixel AF sensor with dedicated Phase AF points with the sensor, but sensor architecture is traditional and it does need low-pass filter.
AF system:
Both camera supports Hybrid AF system, Canon 70D is limited to 19 AF point only, Fujifilm X-T1 AF area is divided into a 49-point matrix and covers more screen area compared to Canon 70D.
Digital Split Image technology in X-T1 it make a bridge between Manual focus and Autofocus method, through the implementation of four striped focusing aids; similar to a rangefinder focusing method, once all the four strips are lined, it means focus is acquired and you can press the shutter button.
ISO
We have noticed few things that will surely have impact on low-light perofrmance
Fujifilm X-T1 have bit bigger sensor size compared to Canon 70D.
Fujifilm X-T1 have less megapixel count + bigger sensor, that clearly means the X-T1 photodiodes are larger than Canon 70D. The larger   photodiodes collect more incoming light to sensor.
Finally, more expandable ISO range on specification sheet, (25600 vs 51200)
The Fujifilm X-T1 will perform better in low-light situation compared to 70D.
Video:
Fujifilm X-T1 can capture Full HD videos @ 60fps frame rate on the other hand Canon 70D is limited to 30fps frame rate.
Display:
The Canon have better display system compared to Fujifilm X-T1, with Canon you get ability to touch and shoot your subject and swivel LCD helps you to compose your shot effortlessly.
Both camera features Built-in wireless connectivity
Verdict: We highly recommend you to buy Fujifilm X-T1, since it comes with better sensor , no optical low pass filter and advance AF system.
Buy Fujifilm X-T1 from Amazon || B&H