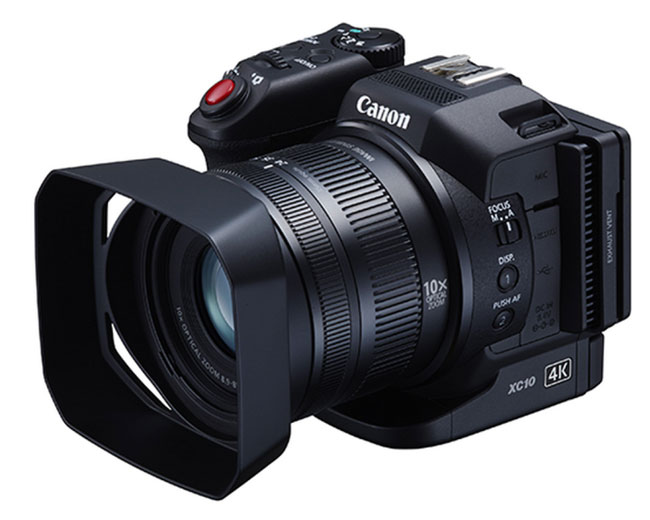 Four cameras Canon XC10, Panasonic GH4, Panasonic LX100 and Panasonic FZ1000 we can say that four rivals that're fighting to prove their superiority. Let's check their specifications to find the answer that which camera would be technically good, justified, or acceptable in which we can almost put our trust.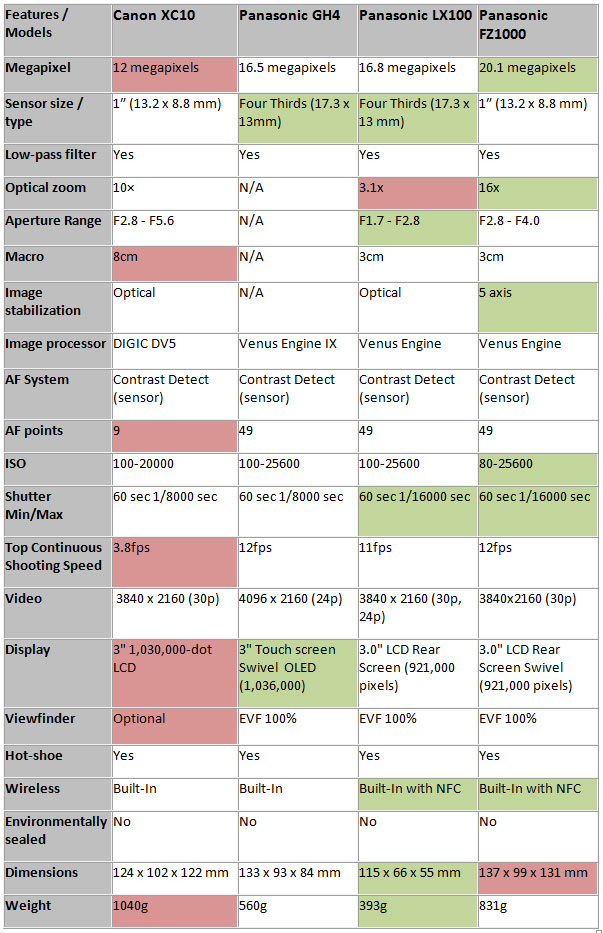 Megapixel– Panasonic FZ1000 uses 20.1 mp of resolution which is best among the others but with 1″ (13.2 x 8.8mm) weak sensor can deliver almost more than average quality of images but however, the sensor sizes of Panasonic GH4 and Panasonic LX100 deploying the best sensors and also would be able to deliver nice quality of images.
Optical Zoom–  Panasonic FZ1000 is the only compact camera with 16x optical zoom helps you to get much closer to the subjects and offering you sharp and magnified images on the other hand Canon limited to 10X optical zoom, and finally LX100 offer 3X optical zoom only.
Aperture range– Panasonic LX100 having the best aperture range with F1.7-F2.8  that 's best among fours three that allows a lot more light to fall onto sensor and in such a way you can have the freedom to use the faster shutter speed in order to acquire the more depth of the field.
Image stabilization– The FZ1000 incorporation of 5- axis image stabilization can handsomely correct your camera shake and doesn't allow your images to ruin, and on the other hand the Canon XC10 and LX100 features optical based image stabilization.
AF point – All the four listed camera features contrast detect AF system, so number of AF point actually doesn't matter.
ISO– All the tree opponent camera features ISO range upto 25600, however the Canon XC10 is limited upto 20000 only.
Shutter The shutter speed of the LX100 and the FZ1000 is very broad.. it covers a range of 60sec to 1/16000, on the other hand the Canon XC10 and Panasonic GH4 shutter range is almost same (60 – 1/8000 sec)
Video: All the above mentioned camera can record videos at 4K UHD Videos, Now lets talk about them in details,
The XC10 Video is recorded with H.264 compression and packed in the widely supported MXF wrapper. Bitrates 35 and 50 Mbps are available for 720p and 1080i/p recording, and there are 205 and 305 Mbps modes (depending on frame rate) for UltraHD 4K.
Panasonic GH4 Video recording is available in Cinema 4K (4096 x 2160, 24 fps) and QFHD 4K (3840 x 2160, up to 30 fps) in MOV/MP4 formats. Full HD video can be captured with 200Mbps ALL-Intra or 100Mbps IPB, with no limit on recording time, and users can choose from MOV, MP4, AVCHD Progressive, and AVCHD formats at a variety of frame rates, according to their needs.
Panasonic LX100 videos 4K Ultra HD 3840 x 2160 video recording at 30 or 24 fps in MP4 format, Full HD 1080p video at 60 or 30 fps in MP4 or AVCHD formats.
The FZ1000 is able to record 4K QFHD (3840 x 2160) video at 30p with a high bit rate of 100Mbps in the MP4 file format.
Display-  The Panasonic GH4 is tremendous quality of a rear 3.0″ 921k-dot Free-Angle LCD screen is ideal to take the shots from high and low viewing angles with 100% framing accuracy etc while Canon XC10 ha worst display.
Wifi- The built in wifi with NFC in two cameras Panasonic LX100 and Panasonic FZ1000 for quick transferring of images and videos.
Cost of the camera
| | | | | |
| --- | --- | --- | --- | --- |
| Camera Name | Canon XC10 | Panasonic GH4 | Panasonic LX100 | Panasonic FZ1000 |
| Price | $2,499.00 | $1,497.99 | $797.99 | $797.99 |
| Available at | Amazon B&H | AmazonB&H | AmazonB&H | AmazonB&H |
Verdict: If we look at the specification vs. price ratio, the price of the Canon XC 10 camera is too high if we compared to its competitors, If you are looking for a compact solution I will recommend you to go with Panasonic LX100 camera.