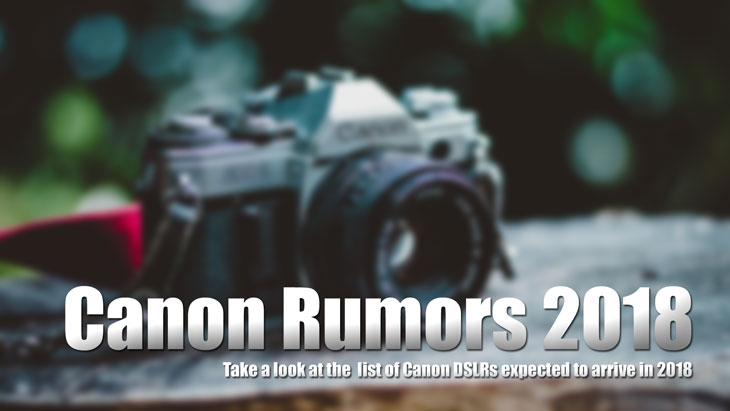 2017 ended and Canon completed almost all its major announcements this year.  Take look at the list of Canon upcoming cameras of 2018
Canon 1400D / T8 We have already seen Canon 1400D / Kiss X90 entry level DSLR already cleared the FCC test and in next few months we will announcement for sure.
Canon EOS M50 also registered at wireless certification agency and expected to announce in next few months.
Canon 2000D: The Canon 2000D coming in three different variants (having different kit lens and body ). The canon 2000D name surfaced by worldwide wireless certification agencies and the camera is also listed in our upcoming camera code name list
Canon 5DS Mark II – As we have told you earlier Canon 5DS/R successor will going to arrive in 2018. The same news is re-confirmed by a source of veteran rumor mill today.
Based on the information we have received Canon 5DS camera will not going to split in two different mode, only one model us coming with OPLF and wit high resolution DPAF sensor.
4K APS-C DSLR from Canon in 2018 – In 2018 Canon will going to introduce it's first 4K capable APS-C sensor based camera. And later on the tech will be added to lower-end models. Currently Canon 7D Mark II and Canon 80D remains limited to Full HD Video mode only.
Canon 7D Mark III – Canon is rumored to announce Canon 7D Mark III camera in 2018. We don't have to wait  for 5 years again to get the next squeal of the camera. The Next generation of 7D series camera will going to have enhanced DPAF sensor and upgraded Video 4K video mode.
Canon 90D – The name isn't confirmed yet it may be also called Canon 80D Mark II. Canon is also rumored to upgrade the 80D camera next year.
No details available about any upcoming High-End Mirrorless camera.
More to come….
Stay with us on FACEBOOK | TWITTER | GOOGLE+ to get live news + rumors 24X7