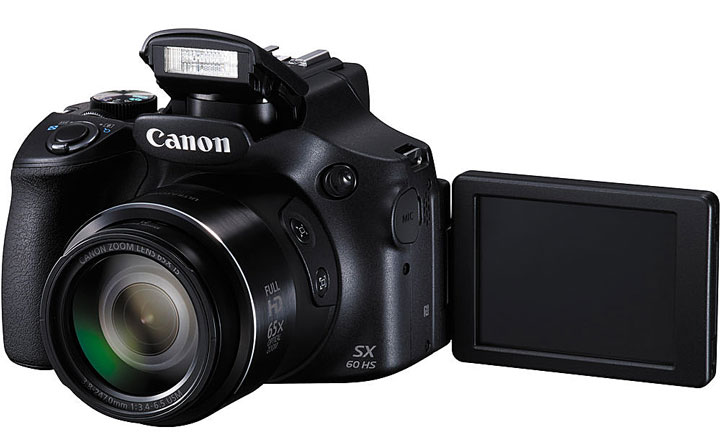 Canon SX60 HS finally announced by Canon today, the camera features 16 Megapixel CMOS sensor combined with a DIGIC 6 Image Processor, the camera features a massive 65X optical zoom , you can also record Full HD videos, the Canon SX60 HS HYBRID IS is active while recording videos or shooting still snapshots, on the rear side we get a 3.0″ 922k-Dot Vari-Angle LCD display unit and 922k-Dot Electronic Viewfinder. The recently announced Canon SX60 HS also features built in WiFi and NFC connectivity for effortless sharing and remote shooting. The PowerShot SX60 HS available in October for $549.99.
Buy Canon SX60 HS camera from Amazon
Canon SX60 HS from B&H Store
Canon SX60 HS Press Release
Three New High-End, Advanced PowerShot Models from Canon U.S.A. Empower Photographers to Create Amazing Images and Video
PowerShot G7 X is the Company's First One-Inch Sensor Compact Digital Camera, PowerShot SX60 HS Digital Camera Boasts a Super 65x Optical Zoom Lens and PowerShot N2 Digital Camera Features an Updated Body Design with a Selfie-Ready LCD Touch Panel
MELVILLE, N.Y., September 15, 2014 – Canon U.S.A. Inc., a leader in digital imaging solutions, today announced three new PowerShot models expanding upon its lineup of high-quality, compact digital cameras, the PowerShot G7 X, the PowerShot SX60 HS and the PowerShot N21. The PowerShot G7 X is the company's first compact point-and-shoot camera with a one-inch sensor, giving users an outstanding portable camera that allows them to take high-quality photographs and videos. The PowerShot SX60 HS camera features a 65x Optical Zoom lens and amazingly broad focal length range equivalent to 21mm -1365mm, while the PowerShot N2 camera has a compact and unique, stylish design with a selfie-ready, flip-up touch panel LCD that makes it easy for social media fanatics to share their favorite photos and videos via the camera's Wi-Fi® and Near Field Communications (NFC™)2 features.
"Canon continually strives to provide imaging enthusiasts with the tools they need to create high-quality images and videos," said Yuichi Ishizuka, president and COO, Canon U.S.A., Inc. "We believe in the talent of those passionate about photography and these three new PowerShot cameras allow photographers to capture, print and share their most amazing images."
The PowerShot SX60 HS Digital Camera
The new PowerShot SX60 HS digital camera is the latest addition to Canon's SX high-power zoom lineup. With 65x optical zoom (equivalent to 21-1365mm) and Optical Image Stabilization for steady images, this camera lets users zoom in and capture special moments even at long range. This new model includes a 16.1 megapixel* CMOS image sensor that, when paired with Canon's DIGIC 6 Image processor, creates Canon's high-sensitivity HS System to enhance low-light image quality. Further boosting the performance of the camera's 65x zoom lens is Canon's innovative Intelligent IS system which provides users with outstanding eight-mode shake correction technology. For filmmaking enthusiasts, the camera's 1080/60p Full HD video capabilities feature the choice of automatic or manual exposure control together with a built-in stereo microphone and a port for optional external stereo microphone to record life-like audio with ease.
Like the PowerShot G7 X, the PowerShot SX60 HS camera is equipped with built-in Wi-Fi technology, so users can share the amazing still images and videos taken with the camera online quickly and easily using compatible mobile devices. The camera's Mobile Device Connect Button makes it easy for users to connect to a compatible smartphone or tablet. Images and movies uploaded to the cloud via Canon iMAGE GATEWAY can be shared easily on social media platforms. The PowerShot SX60 HS camera also includes NFC making initial setup and pairing easier with a compatible Android device.
The PowerShot SX60 HS camera features Canon's Face Detection and Tracking AF system plus full resolution continuous shooting up to 6.4 frames per second (when not utilizing Tracking AF). The camera also features a new EOS-style grip design for comfortable and secure handling. Users can choose between a three-inch 922K dot Vari-Angle LCD screen for low-or high-angle shooting and a high-resolution 922K dot electronic viewfinder, ideal for shooting in bright outdoor conditions.
When shooting at extreme telephoto focal lengths, the Zoom Framing Assist function remembers the user's previous zoom position, zooms out to locate the subject, and zooms right back into the saved position when the button is released. An additional feature to this Zoom Framing Assist allows users to preset a desired composition such as whole body, upper body or face. Once this feature is enabled, the PowerShot SX60 HS camera will zoom its lens automatically to maintain the desired composition even if the subject moves closer or further from the camera. Another new function called Zoom Memory makes it possible to quickly return to the most recently used zoom position, even if the battery or memory card is replaced.
To help make photographs and video that are creative yet simple to capture, the PowerShot SX60 HS camera features Creative Shot mode and Canon's Smart AUTO mode that intelligently selects optimal camera settings from 58 different pre-defined scenes for still shots and 21 for video. The PowerShot SX60 HS camera also features full-manual exposure and focus control, with the photographer's choice of JPEG, RAW, or JPEG+RAW capture modes. The PowerShot SX60 HS camera is fully compatible with Canon EX-series Speedlites for professional quality lighting effects.
The PowerShot SX60 HS digital camera is scheduled to be available in October 2014 for estimated retail price of $549.99.
Canon SX60 HS Full Specification