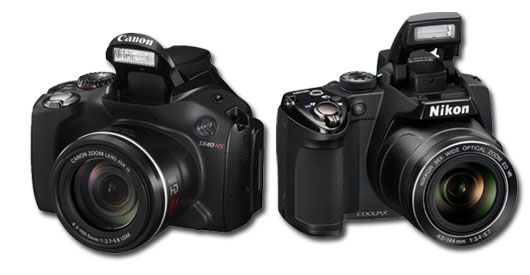 Canon SX 40 HS vs Nikon P500, See our super zoom camera comparison review below.
Buy Canon SX 40 HS from Amazon | Amazon UK | Adorama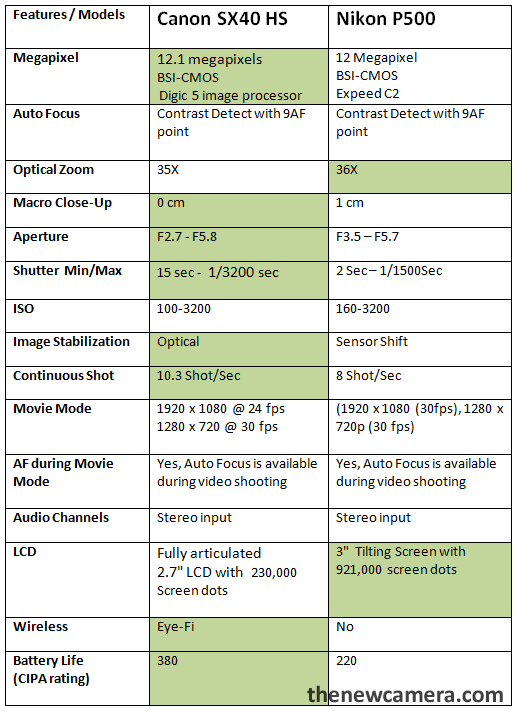 About Sensor and processor: Canon SX 40 HS uses newly developed BSI CMOS sensor and DIGIC 5 image processor, the Digic 5 image processor creates 75% less noise and 6X faster compared to Digic 4 image processor,  Due to new sensor and image processor you get more details and less noise in high ISO settings.
The new image processor also features advanced Multi-area White Balance optimizing color tones of both subject and background under multiple light sources.
Image Quality:  We have seen many high ISO sample from both the camera, , even at ISO 800 and 1600 Canon SX 40 HS images have less noise, better color and sharpness compared to Nikon P500.
IS Image Stabilization
| | | |
| --- | --- | --- |
| | Canon SX 40 HS | Nikon P500 |
| Image Stabilization | Optical | Sensor Shift and VR |
| IS Modes | Available (Normal, Macro, Panning, Dynamic, Powered, Tripod) | Not Available |
Canon SX 40 HS features better image stabilization compared to Nikon P500.
Canon SX 40HS features 6 IS Modes and Optical IS One of the most important innovations for a point-and-shoot camera has been Image Stabilization (IS) since it helps improve image quality by reducing camera blur for both images and videos. Canon has taken this technology one step further with the new Intelligent IS which automatically chooses from six different modes (Normal, Macro, Panning, Dynamic, Powered, Tripod) to optimize image stabilization and help achieve crisp, blur-free images for various shooting conditions
Nikon features Image sensor shift(not optical) + electronic vibration reduction (VR) function, images captured with image sensor shift vibration reduction enabled are further processed with electronic VR for images that are sharper and exhibit less blur.
Lens and Aperture Range
| | | |
| --- | --- | --- |
| Camera / Specification | Canon SX 40 HS | Nikon P500 |
| Optical Zoom | 35X | 36X |
| Macro | 0 cm | 1 cm |
| Aperture | F2.7 – F5.8 | F3.5 – F5.7 |
You get better lens, Aperture range and Macro mode in Canon SX 40 HS, Nikon P500 features 1X more Zoom Compared Canon SX 40 HS.
The Canon SX 40 HS features 35X optical zoom and the advanced design employs UD glass, double-sided aspherical glass-molded and ultra-high-refraction-index glass lens elements to effectively suppress chromatic aberration while maintaining a remarkably compact size. The camera uses a VCM (Voice Coil Motor) for high-speed, quiet, energy-efficient lens movement with precise control.
Nikon P500 features 36x Zoom and NIKKOR ED glass.
Shutter Speed: You get more range in shutter speed and faster burst rate in SX 40 HS, the Canon SX 40HS is better compared to Nikon P500
| | | |
| --- | --- | --- |
| Shutter Speed | Canon SX 40 HS | Nikon P500 |
| Max | 3200 Sec | 1/1500 Sec |
| Min | 15 Sec | 2 Sec |
| Continuous Shot | 10.3 Shot/Sec | 8 Shot/Sec |
High Speed Shooting: An added benefit of the DIGIC 5 image processor is the incorporation of the new High-speed Burst HQ providing users with the ability to continuously capture a maximum of 10 frames.
Movie Mode: Both features Full HD recording and AF during movie mode, at Canon you get 24 fps at Full HD and at Nikon your get 30 fps at Full HD, Nikon is a bit better.
Display: Nikon Wins here, Nikon P500 features 3″  Tilting Screen with  921,000 screen dots and Fully articulated 2.7″ LCD with  230,000 Screen dots.
Batter Life and other: Based on CIPA rating the Canon SX 40 HS battery life is better compared to Nikon P500. The Canon SX 40 HS supports Eye-Fi and weights 100gm(approx) more than Nikon P500.
Overall Conclusion: The Overall performance of SX 40HS is better compared to Nikon P500. Canon SX 40 HS is a clear winner.
Buy Canon SX 40 HS from Amazon | Amazon UK | Adorama