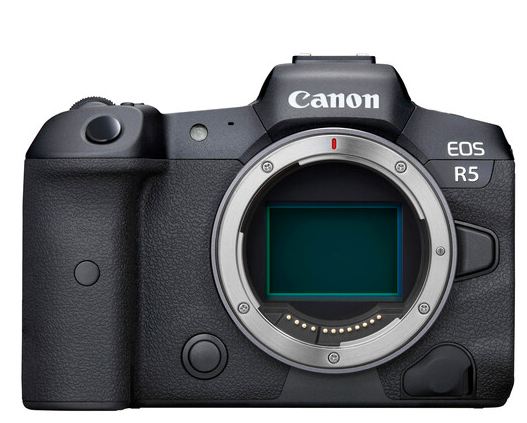 Canon announced the latest firmware update for the Canon EOS R5 camera. The Canon pushes the over the heating limit in 4k as well as 8K mode and they have also tried to improve the recovery time of the camera. Now at normal room temperature, you can record 4k 60p high-quality videos up to 40Mins before the camera gets switched off.
Get EOS R5 from Amazon.com | B&H Store
 1. Approx 5 Min Extension in 8K with New Firmware
8K IPB
8K Record – Time Available – After Cooldown

V1.0 Firmware

Overheat Warning Starts: 16:45

Shut Down: 19:41

V1.1 Firmware

Overheat Warning Starts: 20:21  (Extended 5 min)

Shut Down: 24:53 (Extended 5 min)

After 30 Minutes cooldown of R5

V1.0 – 5 Minutes

V1.1 – 10 Minutes (Extended 5 min)

After 1 Hour Cooldown of R5

V1.0 – 10 Minutes

V1.1 – 15 Minutes (Extended 5 min)
Well here is the description of newly announced Canon Firmware update below
2. Canon EOS R5 Firmware Update Details as provided by Canon
Firmware Version 1.1.0 incorporates the following fixes and enhancements:
1. Useful messaging is now displayed when [HDMI display: Camera+External monitor] and [Overheat control: on] settings are enabled.
2. When using certain RF lenses for movie shooting, the in-lens image stabilization mechanism has been improved.
3. Fixes a phenomenon in which the "Slow Synchro" setting screen is not accurately displayed when the language is set to English.
4. Fixes a typo displayed on the communication setting screen when the language is set to Korean.
5. Connectivity during FTP transmission has been improved.
6. Fixes a phenomenon, in which the card access time may take longer, when using certain CFexpress cards.
7. Temperature detection and shooting time control in video shooting have been improved. In addition, the total shooting time when the short-time recording and power-on/off are performed repeatedly at room temperature is improved.
8. The phenomenon in which the movie recording time available is not correctly displayed when the Date/Time/Zone is not set has been corrected.
*The firmware scheduled for release in early September will incorporate the following improvements for the RF100-500mm F4.5-7.1 L IS USM.
-Supports 6-stop image stabilization. (CIPA-compliant)
-Improves IS capabilities when performing continuous shooting under specific conditions.
This firmware update is for cameras equipped with firmware Version 1.0.0. If the camera's firmware is already Version 1.1.0, this update is unnecessary. When updating the firmware of your camera, please first review the instructions thoroughly.
Q&A:
Preparations for a firmware update:
After the downloaded compressed file (.zip) is extracted, a firmware folder is created.
*Extracting the downloaded file:
Right-click the zip file, and then select Extract All to extract the file.
In the folder you downloaded are the firmware (EOSR5110.FIR / file size: 46,129,952 bytes) and instructions on the firmware update procedures (a PDF file in five languages: Japanese, English, French, Spanish, and Simplified Chinese). Before starting the firmware update operations, please be sure to check the procedure in accordance with the instruction.
(The following is the history of past firmware updates)
Firmware Version 1.1.0 is the first update to be released.
3. Old vs New Firmware Canon EOS R5
Best Video Related to Firmware Update is done by Jordan of dpreview, he has taken two units of Canon EOS R5 and compared side by side
4. Canon EOS R5 HDMI output Crippled?
As you can see, with a very simple technique NoLife youtuber was able to record 4K HQ videos upto 3.5+ Hours without any overheating shutdown. So, does the new update cripple the HDMI output and add some limitations to it? we will publish details soon when NoLife or any other Youtuber does test related to HDMI output of the camera.
Get EOS R5 from Amazon.com | B&H Store
Get LIVE RUMORS –> FACEBOOK | TWITTER |  INSTAGRAM to get live news + Canon rumors 24X7