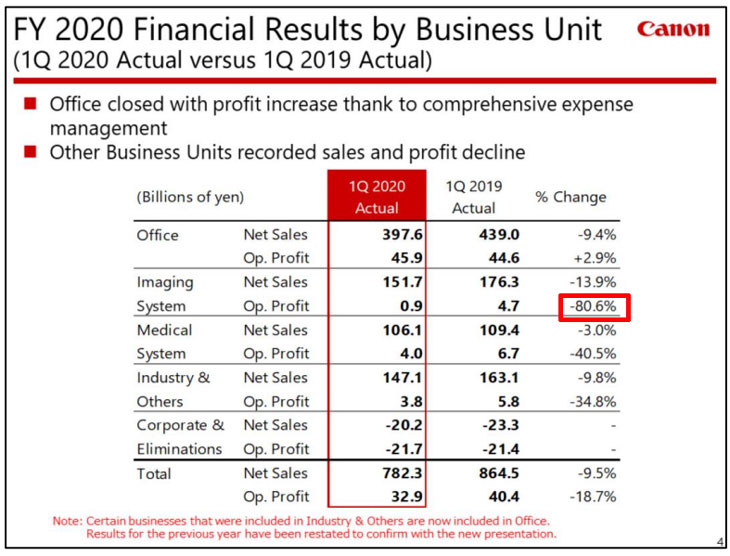 Due to the recent global pandemic, the overall sales of the camera are going down. In the financial Recent report published by Canon for A1 of 2020. Canon operating profits from the imaging branch are down 80%.
From Canon
The global spread of COVID-19 is casting a long shadow over people's lives and as a result is having an enormous impact on economic activity and changing the face of the world economy. This is also the view of the IMF, who significantly downgraded its 2020 GDP growth projection from 3.3% back in January to -3.0%. This makes the global economy this year the worst since the Great Depression.

Looking back at the first quarter, the impact of COVID-19 first appeared with the suspension of operations at our production sites in China for both office equipment and cameras. Next, due to supply-chain disruptions, we could not avoid a decline in factory utilization rates in Asia, including Japan. As a result, we faced a situation of tight product supply. On the other hand, the impact on the market was initially limited to only some regions, like China, but expanded to other regions, including Europe and the U.S. This put a stop to global economic activity which had a significant impact on our product sales.
Well, Canon recently announced the Canon EOS R5 video specs which look very interesting. And for sure it will attract a large number of cinematographers and still shooters towards R5 from different brands.
We will update you soon as we get any new information related to the upcoming cameras.
Get LIVE RUMORS –> FACEBOOK | TWITTER |  INSTAGRAM to get live news + Canon rumors 24X7