Canon and Nikon both registered new models in wireless certification agencies.  In general camera companies take approx 2 to 3 months to announce their product after getting the wireless certification from International agencies.
Canon PC 2276

Canon's "PC 2276"  digital camera registered in Taiwan inc for certification of built in Bluetooth and WiFi. . Keep in mind this is completely a new camera and at this moment we don't have any details about it. Also see Canon 6D Mark II More Details Reveled
Nikon 1622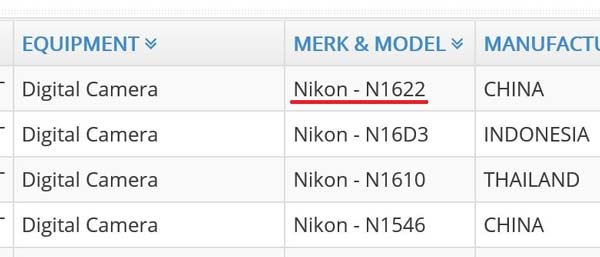 Not only Canon, Nikon also registered at new "N 1622" model today for wireless and Bluetooth certification at Indonesian postal agency. As the information suggest the registered camera is going to be manufactured in China. In China Nikon generally makes Compacts and Mirrorless cameras.
So we do can hope for an mirrorless or compacts in near future.
keep in mind that Nikon already have 3 more camera registered, one of them are made in Indonesia the other one is made in Thailand and the last two of them are made in China.
In general Nikon make DSLRs in Thailand manufacturing unit. So we do expect a DSLR announcement in near future, yes we are expecting Nikon D610 successor.
Not only Nikon D620 Nikon D7500 is also also expected to be announced soon.  some rumour suggest that Nikon D7200 successor also in the announcement funnel of Nikon this year and it will have same sensor as a Nikon d500 camera.
Follow us on  FACEBOOK | TWITTER | GOOGLE+ to get live news
source nokishita