Canon  EF 400mm F2.8 L IS USM with internal 1.4X and 1.7X extender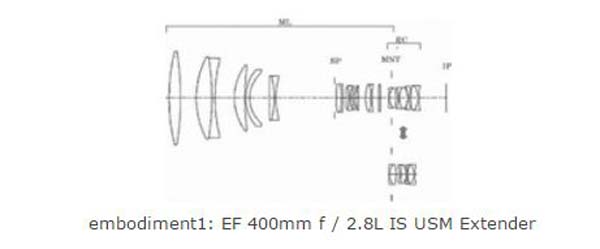 Latest patent surfaced over the web from Canon shows us a 400mm L series lens with Built-in 1.4X and 1.7X extender. The lens extender is actually a two stage lens extender.
So after  implementing the built-in lens extender the 400mm lens will become a 560mm lens and 680mm lens respectively.
Patent Publication No. 2016-191761 (Google Translated)
Published 2016.11.10
Filing date 2015.3.31
Focal length 392.57
F-number 2.90
Angle of view 3.15
Image height 21.64
Overall length of the lens 371.15
BF 44.00
The first state magnification 1.40
The second state magnification 1.70
The lens technology is not new Canon already using the built-in lens extender technology in Canon EF 200-400mm f/4L IS USM Lens tjat features built-in 1.4X lens extender and after hence the 200-400mm we get the focal range of 280-560mm.
The arrival date of lens is not know yet and in general a patent takes upto 2 years to arrive as a real product.
Also read – Should Canon and Nikon Announce Medium Format Mirrorless Camera?