We have dome a specification comparison review between Canon G1X Mark II and Canon G1X, the canon upgraded the core specification of Canon G1X Mare II to a new level, take a look at the details below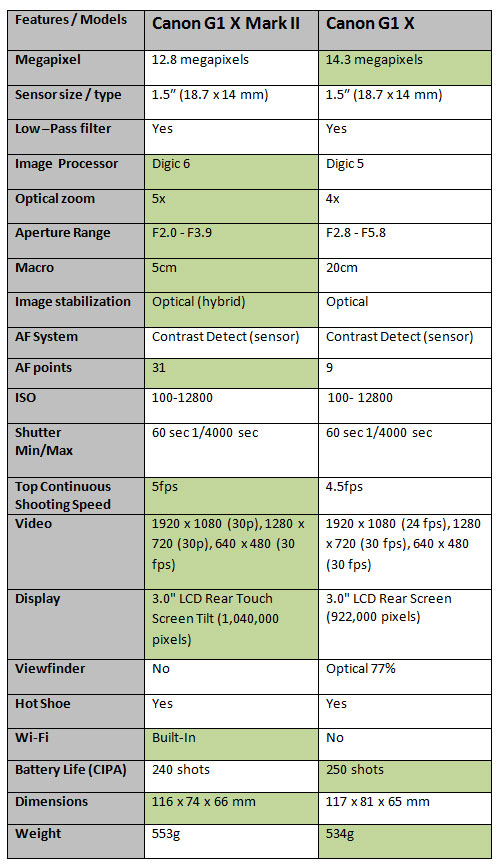 New Sensor:  Canon G1X Mark II comes with a newly developed 12.8 megapixel High-Sensitivity 1.5″ CMOS sensor, the sensor is new + also have bit large photo-diodes compared to its predecessor (12 vs 14 MP) and hence it will give you better performance during low-light condition.
New Image Processor: The latest image processor of Canon G1X Mark II improves the AF speed of the camera approx 2X and also reduce the shot-to-shot shooting time lag, the new processor also comes with newly developed algo to give you cleaner JPEG/ RAW output at High ISO range.
Improved Optics: The Canon G1X Mark II have new lens, that gives you bright aperture range, better macro mode (5 vs 10 cm) and more optical zoom (4 vs 5X) compared to Canon G1X.
AF points: The Canon G1X Mark II comes with a improved AF system and more AF points, the G1X Mk II is approx 2X faster than G1X under normal condition.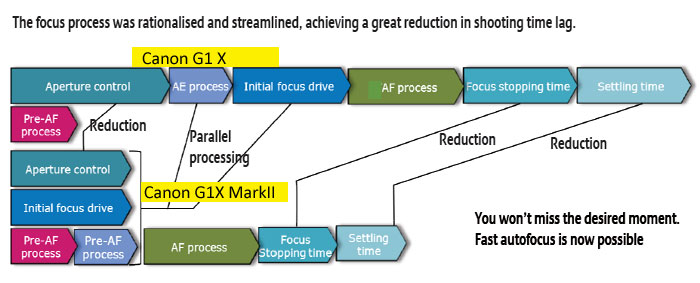 Hybrid Image Stabilization: The Canon G1X Mark II features improved image stabilization system, the newly developed Hybrid works in panning shots, Macro (Hybrid), Dynamic mode is highly effective for video work and active tripod mode corrects minor amounts of camera shake.
Display: The Canon G1X features 3.0″ 1,040k-dot capacitive touchscreen LCD  that enables touch & shoot mode, the G1X Mk II menu navigation become very much easier when compared to its predecessor.
WiFi: The G1X Mk II  built in WiFi helps you to enable remote shooting (via Canon app available for apple and andorid based smart devices) and you can also transfer your file with out wire or sync your camera card with a WiFi based databank.
Verdict: Based on the specification comparison review we highly recommend you to buy Canon G1X Mark II camera.
Pre-order / Buy your camera now
Buy / Pre-order Canon G1X Mark II from Amazon