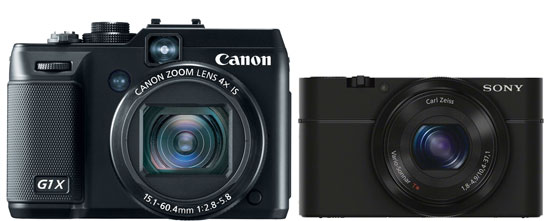 Both camera are made for pro shooters,  see the specification comparison review of both the compact camera below and share your though with us,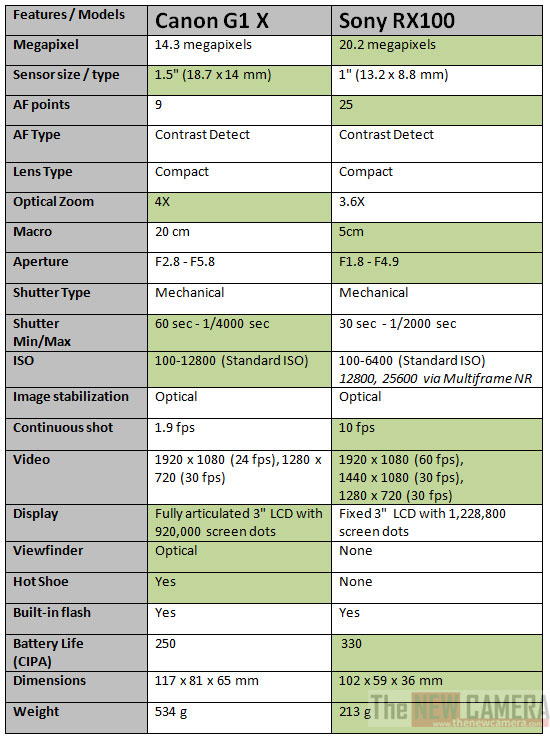 Sensor and image processor: Canon G1 X features 14 Megapixel 1.5 inch CMOS sensor and DIGIC V image processor, with the big sensor and advance image processor  you get better ISO range and less noise in your images. Sony RX 100 features 20 Megapixel  1 inch sensor and latest generation of Bionz image processor,  but Sony RX100 sensor is small compared to Canon G1 X.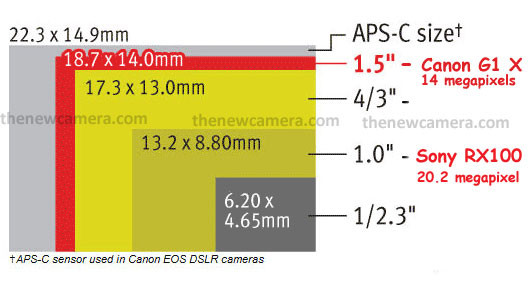 Noise Levels & Dynamic Range: Large sensors with larger pixels produce low noise, more details and higher dynamic range, See the High ISO image comparison between Canon G1 X and Sony RX 100.
 The ISO:  The standard ISO range of Sony RX100 is limited to 6400, after that you have to use Multi Frame NR,  12800 and 25600 settings are achieved through combining Multi Frame Noise Reduction. In Canon G1 X you get standard ISO range from 100 to 12800.
Lens: Sony RX 100 features bright F1.8 Carl Zeiss Vario-Sonnar T lens with 3.6x zoom optical zoom and better macro mode, canon features bit bigger 4x Optical Zoom.
Shutter   – The Canon G1 X offers more wide shutter range compared to Sony Rx100,
Shutter Type
Continuous shooting
Shutter
Min
Max
Sony RX 100
Mechanical
2.5, 10 fps
30 sec
1/2000 sec
Canon GX 1
Mechanical
1.9 fps
60 sec
1/4000 sec
Video – Both the camera offers Full HD video recording, Canon G1 X Full HD video recording is limited to 30 fps only and Sony RX 100 supports 60fps at Full HD.
Display – The Canon G1 X comes with Fully articulated 3″ Color LCD with 920,000 screen dots, The Sony RX 100 features with Fixed 3″ Color LCD  with 1,228,800 screen dots.
View finder – Canon  G1X features Optical viewfinder,  No viewfinder available in Sony RX 100.
Pocketable – Sony RX 100 easily fits in jeans pocket but Canon G1 X need a Jacket pocket,  Sony Cyber-shot DSC-RX100 is approx 13% (15.1 mm) narrower, 45% (28.8 mm) thinner and 28% (22.4 mm) shorter than Canon PowerShot G1 X.
Sony Rx 100 is fast compared to G1 X: Sony RX 100 has high-speed autofocus that locks onto a subject in as quickly as 0.13 seconds, The shot to shot time of RX 100 is approx 0.36 second only whereas the shot to shot time of Canon G1 X is approx 2.67 seconds.
Overall conclusion:  With Canon G1 X you get vari-angle display, optical view-finder and more standard ISO range / better low-light performance with Sony RX 100 you get Fast AF performance, more resolution, better video & macro mode in a ultra compact size body.
Buy Canon G1 X at Amazon
Buy Sony RX 100 at Amazon
See more about Canon G1 X | See more about Sony RX100