Read the Canon G1 X vs. Nikon V1 vs. Panasonic GX1 review to find out the best camera for you.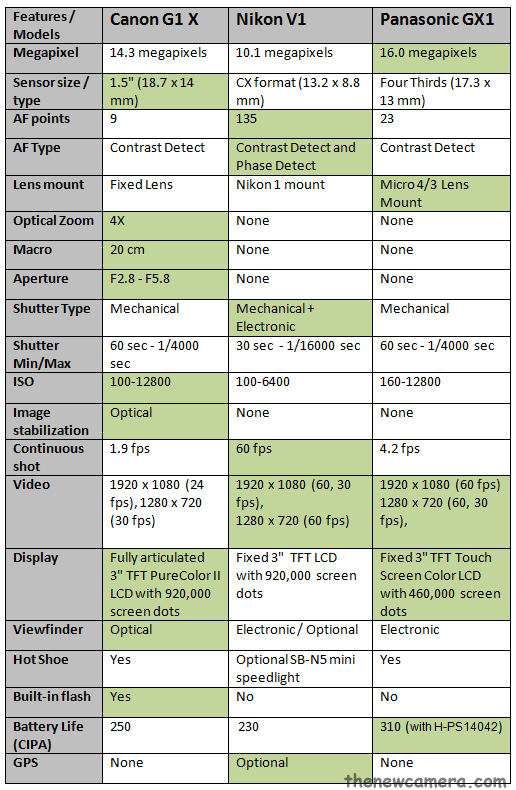 Sensor and image processor
Canon G1 X uses newly developed 1.5 inch 14.3 CMOS sensor with DIGIC V image processor, with the new sensor and image processor you get more dynamic range, better ISO range and less noise in your images.
Panasonic uses 16 megapixel M 4/3 sensor and  venus FHD image processor, the Venus FHD processor is the same processor used in GH2 / GF2 / GF3 / G3  mirrorless cameras.
Nikon V1 uses a small CX format sensor but very fast Expeed 3 image processor, you get  Continuous shot  up to 60 Shot/Sec.
Noise Levels & Dynamic Range: Large sensors with larger pixels produce low noise and higher dynamic range.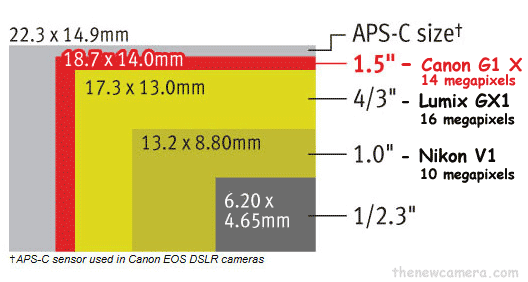 ISO: The ISO rating on Nikon 1 is limited to 6400, Panasonic Lumix GX1 ISO range is 160 to 12800 and Canon G1 X ISO range is 100 to 12800, the overall ISO range of Canon G1 X is better compared than the Nikon V1 and Panansonic Lumix GX1.
 Auto Focus: Nikon V1 uses Hybrid AF system with both phase and contrast detection with 135 AF points, Panasonic GX1 features 23 AF point with contrast detection and Canon G1 X uses contrast detection AF system and comes with only 9 AF points
Shutter Speed  – If we look at the type of shutter and image processor used in all these three camera, the Nikon V1 comes out as a clear winner
Shutter Type
Continuous shooting
Shutter
Min
Max
Nikon 1
Mechanical + Electronic
10 fps – Mech. Shutter60fps  – Elect. shutter
30 sec
1/16000 sec
Lumix G1X
Mechanical
4.2 fps
60 sec
1/4000 sec
Canon GX 1
Mechanical
1.9 fps
60 sec
1/4000 sec
Lenses Many options available with Panasonic Lumix GX1, you get wide range of high quality optics including fast prime lenses.
The Canon G1 X comes with a compact 4X optical zoom lens, the Nikon 1 have very limited range of Nikon 1 Lenses.
Pocketable: Canon G1 X with fixed 4X optical Zoom Lens and Panasonic Lumix GX1 with collapsible kit zoom can easily fit in your jacket pocket, Nikon 1 lenses are big and need more space / travel bag.
Video: Both Nikon and Panasonic and Lumix offer Full HD Video recording at 60 fps, Canon G1 X Full HD video recording is limited to 30 fps only.
Display: The Canon G1 X comes with Fully articulated 3″ TFT PureColor II LCD with 920,000 screen dots, The Panasonic GX1 features with Fixed 3″ TFT Touch Screen Color LCD  with 460,000 screen dots and finally Nikon V1 with Fixed 3″  TFT LCD with 920,000 screen dots.
View finder: Canon  G1X features Optical viewfinder, Nikon V1 have Electronic viewfinder and Panasonic Lumix GX1 have optional  Electronic viewfinder.
Conclusion: 

Canon G1 X is the best compact camera ever made, highly recommended for event shooters, photojournalist,  nature & Landscape photographers, In a very tight compact body you get 1.5inch sensor, ISO up to 12800 and high quality 4X optical zoom lens.

Panasonic GX1,  Comes with bit smaller sensor compared GX 1 features better video mode and new X series of contractible zoom lens are highly optimized for video shooting,  , with four third format you also get a wide range of high quality optics including fast prime lenses.

Nikon 1 system is highly recommended for sports & Action Photographers, it features advance AF system and continuous shooting up to 60fps, but remember the sensor size is small compared to Canon G1 X and Panasonic GX1 (you get limited dynamic and  ISO range).
Buy Canon G1 X from Amazon || B&H |||
Buy Nikon V1 from Amazon || B&H ||| Amazon UK