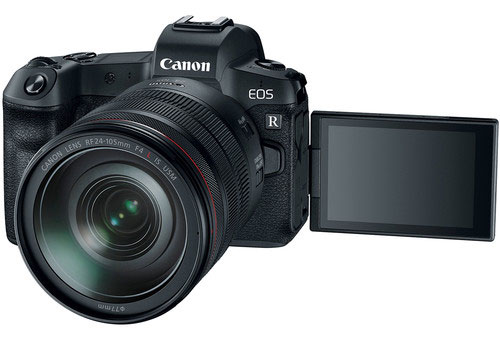 After Canikon announcement Sony market share rapidly dropped from 100% to 67%. More surprisingly despite of  announcing Nikon Z6 and Nikon Z7 Mirrorless camera Nikon market share remains limited  to 10.4% only, May be due to the shipment of Nikon Z6 haven't started yet (will start from next month). Take a look at the graph and stats below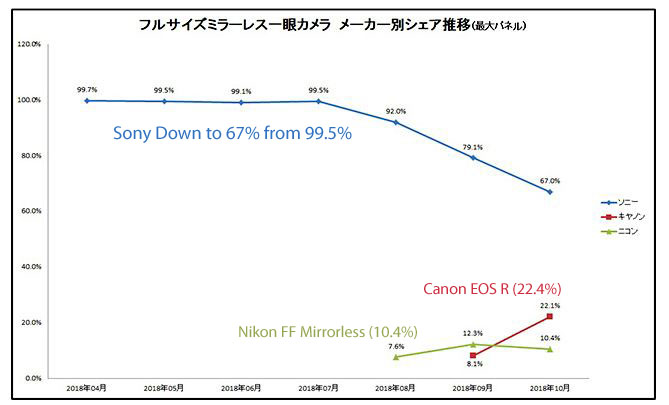 Full frame mirrorless market share breakdown (Japan):
Sony 67%
Canon 22.1%
Nikon 10.4%
Canon EOS R fullframe Mirrorless sales are up for now at-least, and it would be more interesting to see how EOS R performs in next few months and will Canon add more Camera in Fullframe line-up in next few months to increase its sales ?
Well, if you look at Specs comparison or Video mode Canon EOS R in general fails to match the features competitors giving at the moment. The Canon EOS R doesn't have built-in IS, the 4K video mode is 1.74x cropped and it have only one card slot.
But why it is selling like hotcakes ? Nikon and Sony should do a little research to find out ? BTW, what believe is usability is one of the most important factor for a person like me. With EOS R you are getting 5K+ AF points for blazing fast AF performance, I do videos (vlog) as well as still stuff. So, a Vari-angle screen is a must have feature for me at least which competitors missing at the moment.
We will update you once again when the shipping of camera starts from Next month.
Help us Directly We are at Patreon
Get Your Products through our affiliates – Amazon | B&H
Follow us on our social pages  FACEBOOK | TWITTER | INSTAGRAM to get live news + Canon rumors 24X7