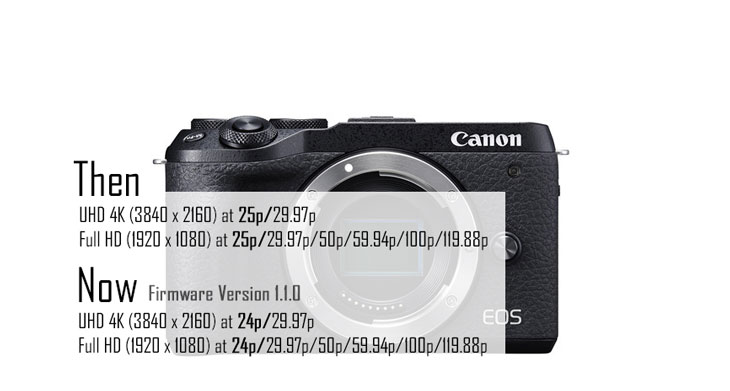 Canon EOS M6 Mark II B&H Store
Now, let me clear up the confusion. Canon EOS M6 Mark II camera was capable to record 25FPS video and, not 24FPS. After getting user(s) requests and complaints related to the absence of 24FPS mode in the Full HD or 4K Video mode. Canon Finally decided to put the 24FPS option inside the camera.
1. Canon EOS M6 Mark II Camera Can Shoot 4K Videos at 24 FPS ?
Canon EOS M6 Mark II camera can now record exactly 24fps frame rates with the help of new firmware update. Earlier it was limited to 25FPS, now with the help of the latest firmware updates the camera is capable to shoot 24FPS in Full HD as well as 4K Video Mode.
2. Firmware Version 1.1.0 incorporates the following enhancement and fixes:
1. The option to capture movies in the frame rate of 23.98p has been added.
2. Fixes the phenomenon where the focus position of the lens returns to the home position if the camera powers off due to the "Auto Power Off" setting during Interval Timing shooting.
3. Fixes the phenomenon in which, in rare cases, the camera may not autofocus at the edges of the image area.
Firmware Version 1.1.0 is for cameras with firmware up to Version 1.0.1. If the camera's firmware is already Version 1.1.0, it is not necessary to update the firmware.
When updating the firmware of the camera, please review the instructions thoroughly before you download the firmware.
Notes:
You can download the latest version of the instruction manual from our Web site.
Q&A:
Preparations for a firmware update:
After the downloaded compressed file (.zip) is extracted, a firmware folder is created.
*Extracting the downloaded file:
Right-click the zip file, and then select Extract All to extract the file.
The extracted folder contains the firmware (File name: M6200110.FIR, File size: 37,013,792 bytes) and instructions on the firmware update procedures (a PDF file in five languages: Japanese, English, French, Spanish, and Simplified Chinese).
Before starting the firmware update operations, please confirm the contents of the download, and carefully read through the firmware update procedures.
(The following is the history of past firmware updates)
Changes in Version 1.0.1:
1. Corrects a PTP communications vulnerability.
2. Corrects a vulnerability related to firmware update.