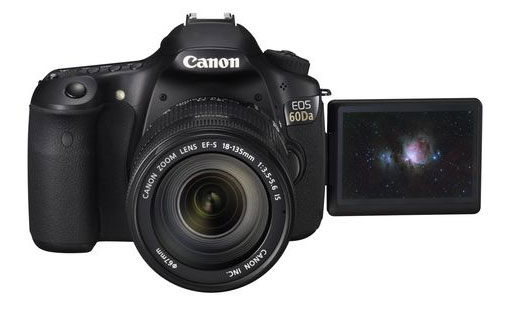 Canon 60Da available for pre-order at Adorama
A successor to the EOS 20Da announced today, the EOS 60Da features the same CMOS sensor and image processor as the existing EOS 60D. Traditional DSLRs include an infrared (IR) filter within the low pass filter in front of the CMOS sensor, which blocks IR light from passing through to the sensor's photodiodes. This prevents inaccurate colour balances caused by the sensor's natural over-sensitivity to red signals.
However, in astrophotography one of the most popular subjects to photograph, the diffuse nebulae, emits IR energy that conventional DSLRs cannot accurately capture because of the presence of the IR filter. In the EOS 60Da the IR filter has been modified, allowing three times more hydrogen-alpha (Hα) lines to pass through than the EOS 60D sensor. This enables astrophotographers to capture the red colours of phenomena such as the diffuse nebulae more accurately, for more impressive results.

the EOS 60Da captures approximately 3x the hydrogen-alpha (Hα) rays than the EOS 60D, resulting in astrophotography that is sharper, clearer and more accurate in the depiction of naturally occurring reddish hues of diffuse nebulae.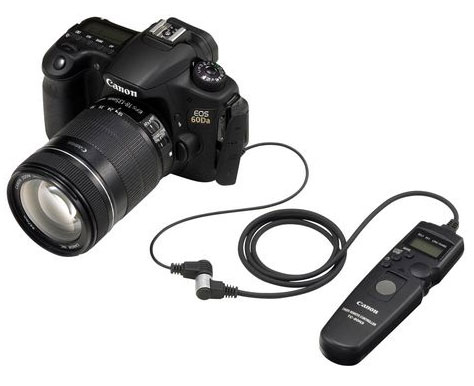 canon 60d a with Canon's RA-E3 Remote Controller Adapter
Press Release
Designed specifically for astrophotography, the EOS 60Da is more sensitive to infrared light thanks to a modified low-pass filter that sits in front of the camera's 18-megapixel CMOS sensor.
Features
More sensitivity to IR light.
18-megapixel APS-C CMOS sensor.
Vari-angle 7.7cm (3.0") 3:2 Clear View LCD screen.
ISO 100-6400, expandable to ISO 12,800.
Time-lapse shooting with EOS Utility software or optional TC-80N3.
Aimed at astrophotographers seeking extra IR sensitivity for specialist applications.
Sensitivity to long-wavelength light
Based on the popular EOS 60D camera, the EOS 60Da features enhanced sensitivity to H-a long-wavelength light, making it ideal for applications in astronomy. A modified low-pass optical filter improves recording of infrared phenomena, such as diffuse nebulae, by approximately three times compared to EOS 60D.
High Resolution
Capture high-resolution photographs that are full of detail. An 18-megapixel CMOS sensor works with a 14-bit DIGIC 4 image processor to deliver images that are low in noise, even when shooting with long exposures or at high ISO sensitivity (max ISO 6400, expandable to ISO 12,800).
Vari-angle LCD
Compose, focus and shoot from any angle with a Vari-angle 7.7cm (3.0") 3:2 Clear View LCD screen, even with the camera attached to a telescope.
Time lapse shooting
For time-lapse shooting, the EOS 60Da is compatible with the optional TC-80N3 remote control (using the supplied RA-E3 adaptor). Remote camera control and tethered shooting is possible from any PC or Mac computer using the supplied EOS Utility software.
Enhanced Features
Crisp images of the stars and planets can be viewed on the EOS 60Da's improved 3.0-inch Clear View LCD screen with 1,040,000 dots for detailed focusing. The flip-out Vari-angle screen allows photographers to adjust the screen for easy viewing without straining even while the camera is mounted to a telescope via a third-party T-ring adapter. Optimized for stargazing with friends or in an educational setting, astronomy enthusiasts can connect the camera to a TV with the provided AVC-DC400ST Stereo AV Video Cable and display the night sky on a TV monitor using the camera's Live View mode. Moreover, the EOS 60Da's Live View mode is equipped with a Silent Shooting feature that eliminates shutter-induced vibration for maximum camera stability when the camera is mounted to a telescope or super-telephoto EF lens.
Enhanced noise reduction on the EOS 60Da sensor offers photographers the ability to experiment with the wide array of ISO settings and increased ISO speeds up to 6400 expandable to 12800. Other features include an intelligent nine-point autofocus system, full manual controls, and RAW, JPEG, and RAW+JPEG image recording capabilities.
Accessories
The EOS 60Da helps capture the wonders of the night sky with its use of Canon's award-winning EF and EF-S lenses along with other EOS accessories. Additionally, the EOS 60Da is packaged with Canon's RA-E3 Remote Controller Adapter, providing the ability to connect a Canon Timer Remote Control such as the TC-80N3 (optional accessory). The TC-80N3 is ideal for controlling time exposures longer than 30 seconds as well as capturing a series of consecutive time exposures that can be composited during post-processing for improved image quality. This is especially useful when the camera body is connected to a telescope[i] or an EF super telephoto lens.
Canon has also included an AC adapter kit with the EOS 60Da, allowing the camera to be powered through an AC wall outlet or a battery-powered inverter, ideal for long exposure image or video capture at home or in the field.
Availability
As a specialized product, the EOS 60Da is only available to order from select authorized dealers. The estimated retail price is $1,499.00 and it is expected to be available this month.