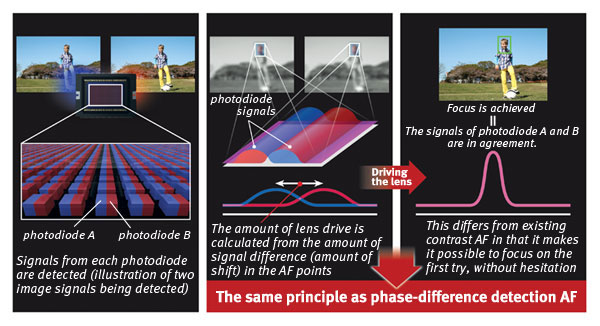 Canon Dual-Pixel CMOS AF system is a complete breakthrough in the field of Auto-focusing technology. The Canon 70D announced on Jul 2, 2013 was the first camera  that features Dual-Pixel CMOS AF technology.
The Dual-pixel CMOS AF Sensor features two photodiodes distributed to each microlens. As a result, two parallax images are captured at once. With Dual Pixel CMOS AF, the amount of lens drive is calculated from the amount of signal difference (amount of shift) in the AF points. When the signals of two photodiode are in agreement the Focus is achieved.
The Dual Pixel CMOS AF takes very shorter focusing times and gives you exceptional tracking performance and smoother autofocusing during video shooting. Live View shooting can be used in a manner similar to using the camera's viewfinder, the fast and smooth AF performance allows users to concentrate more attention on the subject and composing the photo when shooting. Dual Pixel CMOS AF also supports 103 models of EF lenses (including many earlier models), enhancing a photographer's creative options as well as maximizing the benefit of Dual Pixel CMOS AF in a variety of situations.
List of Canon DSLRs that features Dual-Pixel CMOS AF Technology
Canon Cinema Cameras with Dual-Pixel CMOS AF Technology
Canon C100 Mark II
Canon C300 Mark II