We already know that Canon and Nikon is ready to announce Mirrorless camera, possibly at the end of 2018. Not only that we already know the registered code name of Canon Fullframe Mirrorless camera and at the same time that particular model do have a 30 Megapixel DPAF Sensor inside and all these are confirmed set of specification not a speculation.
Now at the same time Nikon is silent till now and everything looks foggy about Nikon Mirrorless systems. There is no solid information available and even Nikon not registered any new products for wireless certification which is really a annoying thing.
Canon and Nikon To Announce Pro Mirrorless Systems
The most important thing is Nikkei – Leading News paper of Japan admitted that "yes they will going to announce pro models in future".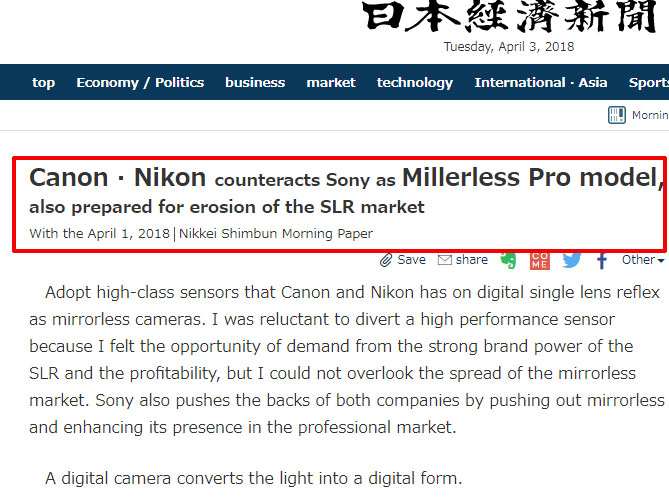 TNC – man ki baat
Well DSLR market is shrinking and DSLRs giants also wants to jump on the mirrorless ship. But before they jump they should do a self analysis, why did they failed as a DSLR maker ? Price vs Specs ratio is one of the most important thing that they should care about. Sony is offering a $2K mirrorless camera whose AF system, low light performance and Video is more advance than $5K or $6K flaship DSLRs.
Just imagine if Canon announces a DSLR @  $2K or even $3K whose specs are better than Sony A7III and it support EF mount lenses, which camera will you will buy ? DSLRs sales are going down due to their outdated specs and high cost not due to weight or size.
Click here to see Upcoming camera model codes
Subscribe to FACEBOOK | TWITTER | GOOGLE+ to get live news + Canon rumors 24X7