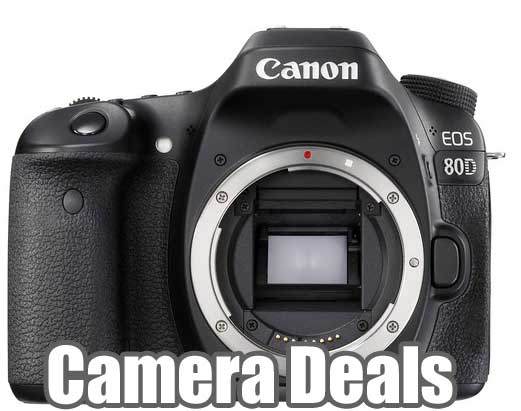 Canon 80d is one of the best Canon camera we have ever seen. The Canon 80d 24.2 megapixel sensor is undoubtedly one of the best performing APS-C sensor that Canon can an ever made.
yes we are saying the right words here, the Canon 80d performance is even better than Canon 7D mark 2 camera in low light conditions.
Despite of having a excellent sensor the Canon 80d also features 45. AF module. That works when you are using viewfinder and the DUal-Pixel AF system gets activated when you are using when you are using Live view display of the camera for shooting a video from and DSLR and believe me DPAF does a blazing fast AF performance without issue.
we have recommended some of the best lenses available for Canon 80d camera here.
Before you being to see the deals click here to price of base model at Amazon and B&H
Canon 80D Hot Deals / Bundle Deals
Now finally it's time to take a look at some of the best deals available for your favorite Canon 80d camera.
1. Canon 80D + Free memory Cards and
Accessories Bundle

@ $1099

Canon 80D +  Sony 16GB Memory Card / Sony 32GB Memory Card / Flash Gun / Rechargeable Battery w/ Charger / Accessories Bundle @ Base Model Price at Amazon.com
2. Canon 80D + 18-55mm, 55-250mm and EF 50mm STM Lenses
(Best Deal)
Canon EOS 80D Digital SLR Camera with Canon EF-S 18-55mm f/3.5-5.6 IS STM Lens + Canon EF-S 55-250mm f/4-5.6 IS STM Lens + Canon EF 50mm f/1.8 STM Lens + 500mm Lens @ Amazon.com

3. Canon 80D (Body) & TTL FLash & 48GB Bundle @ Base Price
Includes – Canon 80D EOS DSLR Camera (80D Canon Camera Body) / Sony 16GB Memory Card / Sony 32GB Memory Card / Flash Gun / Rechargeable Battery w/ Charger / Accessories Bundle @Amazon.com
4. Canon 80D + 18-55 kit Lens and 70-300mm Tamron Zoom Lens
Canon EOS 80D DSLR Camera Bundle with Canon EF-S 18-55mm f/3.5-5.6 IS STM Lens + Tamron Zoom Telephoto AF 70-300mm Lens + Wideangle Lens + Telephoto Lens + 2 PC 32 GB Cards + 6 PC Filter Kit @ Amazon.com