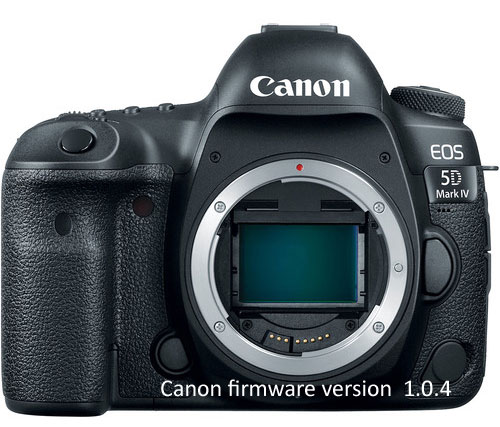 Canon announced 5D Mark 4 firmware update but this firmware update fixes few bugs to make the flagship more stable state. BTW, I was waiting for an update that will BOOM up video features told by the trusted sources of Rumor Mills.
Take a look at the list of improvements that Canon  firmware version  1.0.4 offers to you
Firmware Version 1.0.4 incorporates the following fixes and improvements:
1. Fixes a phenomenon in which a red-colored area may appear at the bottom-center of a captured image when shooting in bulb mode or during a long exposure.
2. Fixes a phenomenon in which the autofocus may not respond when the autofocus is initiated via pressing the shutter button, the AF-ON button or the AE lock button when configured in the custom control menu.
3. Enhances the reliability of communications between the camera and SD card.
4. Fixes incorrect wording on the Finnish language menu screen.
Firmware Version 1.0.4 is for cameras with firmware Version 1.0.3 or earlier. If your camera's firmware is already Version 1.0.4, it is not necessary to update the firmware.
When updating the firmware of your camera, please review the instructions thoroughly before you update the firmware.
The firmware update takes approximately 4 minutes.
Click here to to Visit Canon 5D Mark IV Firmware Update Page
VERY disappointed firmware update
Now why I am telling you that I am very disappointed with the latest firmware update published by Canon for the Canon 5D Mark 4 camera. Since, As rumor mill (canonrumor) predicated that next firmware update will going to add C-log support to Canon 5D Mark 4 and after reading that Particular rumor I was almost convinced that this will going to happen next… but this update really disappointed me deeply as well as the credibility of the trusted sources are again in question