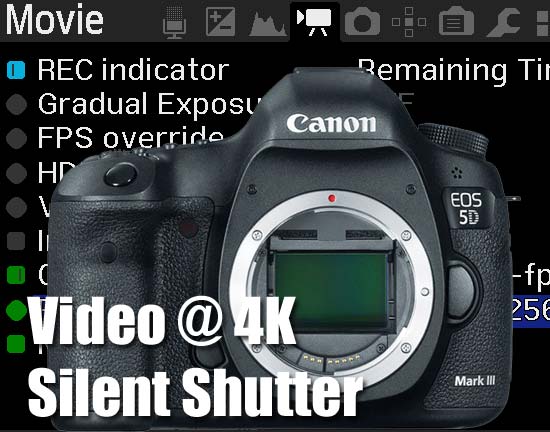 With the Help of ML Latest Hack the Canon 5D Mark III Records 4K Video and now you can use Silent Shutter too.
When Magic Lantern announced that Canon 5D Mark III can record 4K videos on April 1 2017 we have decided not to published and to wait for further confirmations. But recently we got confirmation from our subscribers and users that Magic Lantern firmware is actually working and it allow Canon 5D Mark III to record high resolution video.
Kudos to magic Lantern team for doing such a great work, it shows up the unused potential of the 5D Mk3 camera.

Canon 5D Mark III Write Speed Limit
Now let me tell you  some  insights of Canon 5D Mark 3 camera. If you use  Lexar 64GB Professional 1066x CompactFlash Memory Card (UDMA 7) card in Canon 5D Mark 3 camera then you will get write speed of 95.3 megabytes per second which is quite fast but not sufficient if you wish to record a 4K video. Even if you use SanDisk Pro 64GB card then you will get exactly the same write speed.
Hence the Write Speed of the camera limiting it to record 4K videos, despite of the ML team successfully recorded 4K videos from the camera for few seconds and even you can try it too.

There are some issues while recording 4K videos with Canon 5D Mark 3 camera
Recording limit of Canon 5D Mark 3 camera. The physical hardware as well as the software of the camera limit the write max speed 100MB/s, which will not allow for 4K@ 24fps to be recorded on the camera.

If you force FullHD recording camera to record 4K or 3K video you may face Overheating due to overuse of hardware resources.
5D Mark III Records  
3K video with 24fps and 14 bit
Yes there are some serious issues in recording 4K video from Canon 5D Mark III camera but you can easily record  3K video with 24fps and 14 bit – And the 3K video doesn't touches the 100 MB/s threshold. New Resolutions Available with the Hacks Are
These are the video modes that can be activated with the latest ML hack:
1920×960 @ 50p (both 1:1 crop and full-frame – 3×3 pixel binning)

1920×800 @ 60p (same as above)

1920×1080 @ 45p and 48p (3×3 binning)

1920×1920 @ 24p (1:1 square crop)

3072×1920 @ 24p (1:1 crop)

3840×1600 @ 24p (1:1 crop)

4096×2560 @ 12.5p (1:1 crop)

4096×1440 @ 25p (1:1 crop)

Full-resolution LiveView: 5796×3870 at 7.4 fps (128ms rolling shutter).
Canon 5D Mark III and Silent Shutter
One of the best features for Canon still shooters are the introduction of Silent shutter in Canon 5D Mark III camera. The new implementation will be usable at fast shutter speeds, without the exposure gradient
For More Details and Download Visit ML Official Page