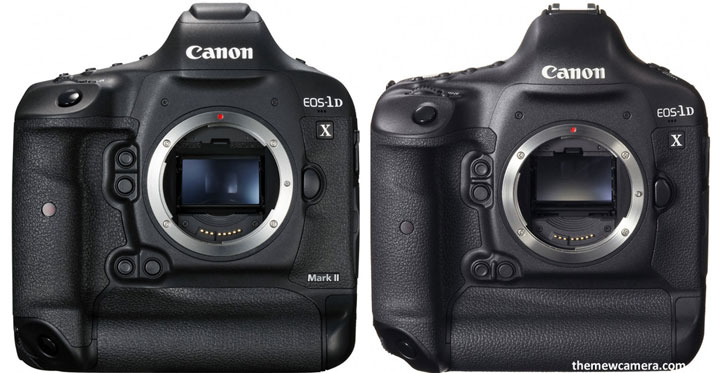 Canon 1DX Mark II features newly developed CMOS sensor and high end image processor, the camera also arrived with a option to record 4K video at 60fps. .. but does all these difference are sufficient to upgrade your current Canon 1DX DSLR.. have a look
| | | |
| --- | --- | --- |
| Features/ Models | Canon 1DX Mark II | Canon 1DX |
| Megapixel | 20.2 MP | 18.1MP |
| Sensor size | Fullframe sensor | Fullframe sensor |
| Low pass filter | Yes | Yes |
| Image processor | Dual DIGIC6 + processor | Dual DIGIC 5+ |
| AF system | 61-point AF system, expanded range, 41-point cross-type | 61-point AF system, expanded range, 41-point cross-type |
| ISO | 100-51200 (expanded in 409600) | 50-204800 |
| Shutter Min/ mix | 30 – 1/8000 | 30 – 1/8000 |
| Continuous shooting speed | 16 fps | 14 fps |
| Video @ 60 fps | 4K @ 60fps | Full HD 1080p @ 30fps |
| Display | LCD monitor 3.2 inches, 1.62 million dots. Touch panel | 3.2″ 1.04m-Dot ClearView II LCD Monitor |
| Viewfinder | Optical | Optical |
| Hot shoe | Yes | Yes |
| Wireless | WiFi + NFC | WiFi + NFC |
| Environmentally sealed | Yes | Yes |
| Battery life | | |
| Dimensions | 150 x 167.6 x 82.6mm | 160 x 459 x 92mm |
| Weight | 1340g | 1415 g |
Take a look at the table above we can clearly see that Canon 1DX Mark II features better sensor and image processor and the killer combo responsible for upscaling the overall perofrmance of the camera.
Canon 1DX Mark II vs Canon 1DX —

Sensor
The Canon 1DX mark II comes with slight increase resolution that will sure help commercial photographers to get more detail in the image that will sure help while taking out the large print-outs. More resolution also helps you while you re-compose your image while setting in the chair via digital zoom, however the 2MP difference won't will never allow me to invest $5999 and buy a new camera instead of my current 1DX.
Introduction of Dual-Pixel CMOS Auto Focus sensor inside a Canon fullframe camera – Canon 1DX Mark II is the Canon first still FF DSLR to get the Dual pixel AF technology, although we have told you earlier many times that Canon will soon bring Dual-Pixel CMOS AF tech to FF DSLR after implementing it inside the 1DC cinema camera.
The other biggest difference is the ISO range- The Canon 1DX mark II enjoys 1-stop more ISO than its predecessor, the Canon 1DX was limited to 2014800 on the other hand the Canon 1DX mark II was limited to 409600.. so the 1-stop difference will allow 1DX mark II camera to get cleaner images in low-light condition.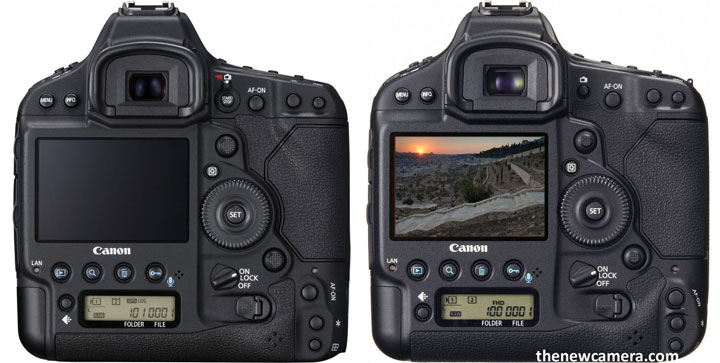 Canon 1DX Mark II vs Canon 1DX

Auto-Focus
Althoug the Canpn 1DX Mark II camera features same AF system as of the Canon 1DX camera but there are some sort of improvements take a look.
All 61 AF point now work at F8 aperture, it will be a great help while shooting brids or any other subjects with telephoto lenses.
Although the AF module remains same but the EOS-1D X Mark II's AF algorithm has also been improved: it's equipped with AI Servo AF III+, which remembers the AF path and helps refine precision. Whether choosing individual AF points manually, using the Large Zone AF area or any of the camera's automatic AF selection modes, the EOS-1D X Mark II is designed to exceed users' expectations for high-precision AF.
Improved RGB Metering Sensor (1DX 100K vs 1DX Mk II 360K)
The newly announced 1DX Mk II camera now features 360K RGB+IR metering sensor combined with Dual Digic 6+ processor that greatly contribute to the camera's impressive AF performance for both stills and video.
The Canon 1DX Mark II can record 4K videos @ 60fps (1DX was limited to Full HD Video only)
The canon 1DX Mk II can record 4K (Motion JPEG)video at up to 60 fps, recording smoothly to CFast™ cards. It's the first EOS camera able to record Full HD video at 120 fps. Users can select ISO upto 12800 for 4K video and 25600 ISO while recording Full HD video.
Introduction of Touch and Shoot Capability in 1DX series
The Canon EOS-1D X Mark II camera's comes with a 3.2-inchtouch panel TFT LCD monitor has approximately 1.62 million dots Its new touchscreen function allows AF point switching and image magnification during Live View shooting and movie shooting, providing convenient operation.
New in-camera Digital Lens Optimizer technology
The EOS-1D X Mark II not only corrects peripheral brightness and chromatic aberration, but also features distortion correction plus diffraction correction, which has been included for the first time in an EOS camera. Distortion correction helps resolve barrel and pincushion distortions,while diffraction correction virtually eliminates the blurring effects from diffraction that can be created when capturing an image at a small aperture. The camera's Dual DIGIC 6+ Image Processors help ensure these corrections can be made with virtually no effect on operational speed.
Verdict:  For current Canon 1DX camera users I don't recommend you to upgrade your camera with Canon 1DX Mark II, I suggest you to wait for the next version Canon 1DX Mark III.
Click here to pre-order Canon 1DX Mark II from B&H