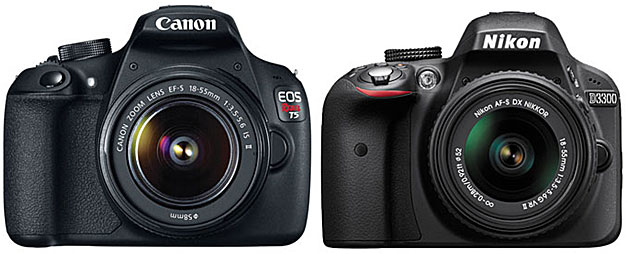 Canon 1200D vs Nikon D3300 specification comparison review, the 1200D / T5 is a entry level camera from Canon and Nikon D3300 is entry level DSLR from Nikon… take a look between these two and select you best DSLR..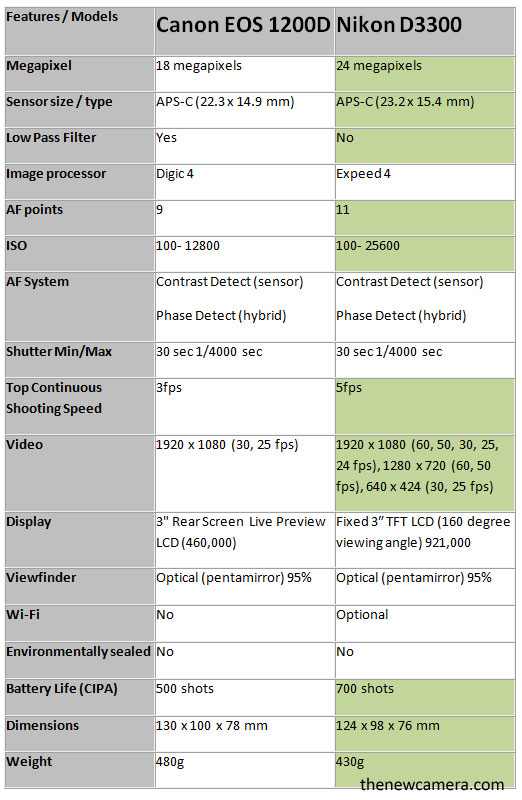 Sensor: Canon features same 18.0 Megapixel CMOS Sensor as seen in Canon 600D / T5i DSLR, the Nikon D3300 have high performance 24.2 megapixel DX-format CMOS sensor,
Better ISO range: Nikon D3300 features more expandable ISO range than Canon 1200D, Nikon will sure give better image quality than Canon at low / poor light situation.
No Low-Pass Filter: Nikon D3300 doesn't have any low-pass filter so we will see sharp image even when viewed at 100%, the Canon 1200D have built-in low pass filter. Nikon Wins here
Advance AF system in Nikon D3300: Nikon D3300 have advance AF system, 11 distinct AF points and Canon is limited to 9 point AF system, more AF points will sure improve the AF detection speed and accuracy.
Fast continuous shooting speed: The Nikon D3300 features fast continuous shooting speed (3 vs 5 fps) at full resolution.
Better Video mode: Canon is giving us Full HD video recording limited to 30fps, on the other hand Nikon D3300 can record Full HD videos at 60fps.
other features include – Nikon gives you bit smaller body and gives you more battery life.
Verdict: based on specification comparison review we highly recommend you to buy Nikon D3300.
Buy Nikon D3300 from Amazon – B&H || Also see Nikon D3300 Recommended Lenses