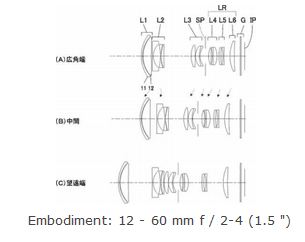 We all know that Canon G1X Series camera with 1.5inch sensor is ultra popular among Canon users. And at the same moment we all that Canon G1X Mark II is overdue for an update you can see more details.
Back to the topic Canon already have the patent of Canon 13-65 mm F2-5.8 lens for 1″ sensor but the recent patent of 12-60mm F2-4 patent (1.5 ") features more bright and better lens so we can expect G1X Mark III with a brand new lens.

Take a look at the patent details translated below
Patent publication number 2016-212248
Release date 2016.12.15
Application date 2015.5.8
Example
Zoom ratio 4.72
Focal length 12.84 20.16 60.62
F number 2.06 3.50 4.02
Half angle of view (degree) 41.74 28.80 10.33
Image height 9.22 10.23 11.25
Lens total length 83.06 84.07 101.55
BF 8.02 12.32 13.44
We will update you soon as we get any new information.