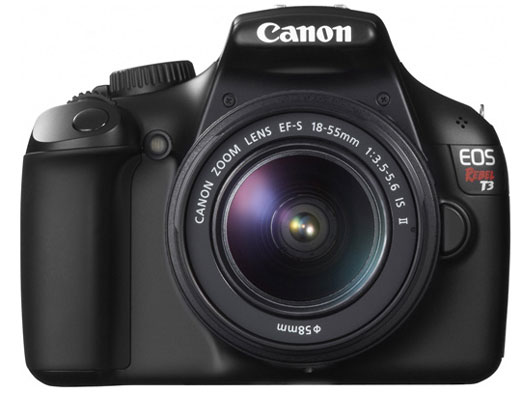 The Rebel T3 features HD movie capture, 12-megapixel resolution and Canon's new informative Feature Guide, to help educate and instruct users as they capture great images, along with the inherent speed and low-light image quality of a Canon DSLR camera. Both new Rebel models are compatible with Canon's complete line of more than 60 Canon EF and EF-S lenses.
Main Features
12-megapixel image quality
On-screen Feature Guide
ISO 100-6400 sensitivity
63-zone iFCL exposure metering
Wide-area 9-point AF system
Creative Auto and Basic+
HD video capture
6.8cm (2.7"), 230,000 screen
Pricing and Availability
The Canon EOS Rebel T3 Digital SLR camera is scheduled to be delivered to U.S. dealers at the end of March, and will be offered in a kit with Canon's new EF-S 18-55mm f/3.5-5.6 II zoom lens at an estimated retail price of $599.99.
New Kit Lenses
Along with these DSLR cameras, Canon is also introducing a new kit lens, the EF-S 18-55mm f/3.5-5.6 IS II zoom lens, the standard kit lens for both the Rebel T3i kit configuration and the Rebel T3 kit configuration.
The new EF-S 18-55mm f/3.5-5.6 IS II zoom lens features the wide-angle to mid-range zoom flexibility with the advantage of Canon's optical lens-shift image stabilization system that yields up to a full four stops of image-shake correction. The version II of this lens includes new IS algorithms to distinguish between normal photographing and when the camera is panning to automatically provide the optimal level of image-shake correction.