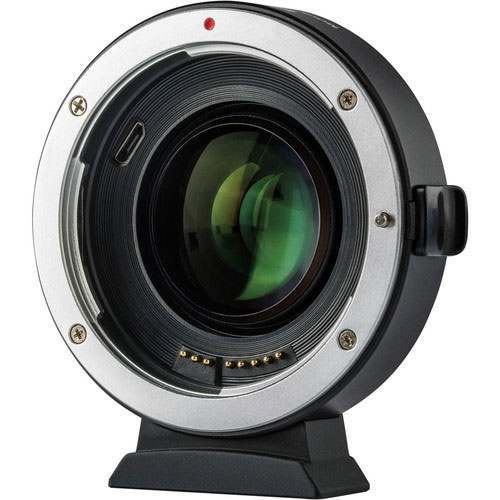 Get this from B&H Store and Amazon.com
Best speed booster for Canon EOS M50 camera, the Viltrox M2 is a excellent tool and most importantly you won't have face crop issue while using EF lenses.  Viltrox M2 actually reduces the FF image size to APS-C. It allow more light to fit on the smaller sensor, reducing the crop factor and providing more light on the sensor area (starting aperture is F1.2 when used with 50mm F1.8). Viltrox m2 speedbooster + 50mm F1.8 Lens will give you excellent filed view without any crop.
Major Features Viltrox m2 speedbooster for Canon EOS M50
Starting Aperture F1.2 (Creates Super Creamy bokeh as of Canon L series portrait lens)
Low light performance of the camera improves, since you are getting more light to the sensor.
The field view of EF lens lens remains same, doesn't suffer from crop.
 Really very helpful when you want to create 4K videos with EOS M50 camera, it will save you from super crop mode at 4K.
 The only downside is less corner sharpness compared to FF cameras.
Best adapter available for Canon EOS M50 camera.
Get this from B&H Store and Amazon.com | Also see Bets Lenses for Canon EOS M50
Follow us for LIVE Updates
Check out Ongoing Featured and Lightning Deals at Amazon.com | Amazon.UK | B&H Store
Get LIVE RUMORS –> FACEBOOK | TWITTER |  INSTAGRAM to to get live news + Canon rumors 24X7