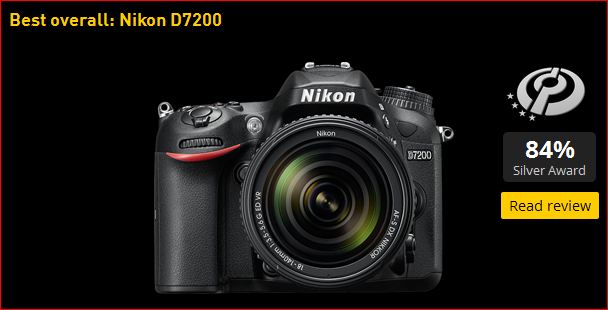 Buy Nikon D7200 from Amazon | Amazon UK 
Digital Photography review (dpreview) website selected Nikon D7200 has the best interchangeable lens camera under $1200 category. According to Digital Photography review website the Nikon D7200 carry one of the best sensor they have ever tasted the camera also features 51 auto focus system that is very effective while shooting sports or during low light conditions. The weak point of Nikon D7200 DSLR is video mode however the overall quality of the camera is very good and it's a perfect camera for still Shooters
Digital Photography review website selected Sony A6300 (Amazon|B&H) as the best mirrorless camera of 2016 and they also picked up Panasonic gx8 as runner-up of the competition both mirrorless camera can shoot 4K videos. Sony A6300 features advanced hybrid AF system on the other hand Panasonic gx8 features DFD autofocus system which is bit slower than Sony. During the test we have also seen that Sony A6300 image quality is better compared to Panasonic GX8. But, also keep in mind that Panasonic features Dual IS mode that helps you a lot while shooting handheld images.
Take a list of camera they have tested
Canon EOS 80D
Canon EOS Rebel T6s
Nikon D7200
Olympus OM-D E-M5 II
Panasonic Lumix DMC-GX8
Pentax K-3 II
Sony Alpha a77 II
Sony Alpha a6300
Stay with us on Facebook and twitter to get more news and rumors.