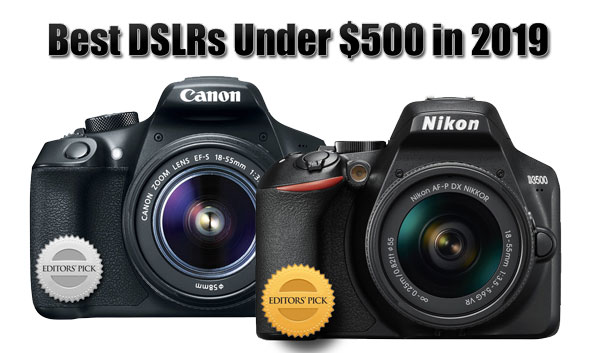 In this article I am going to tell you the name of best DSLR camera available under $500. But believe me, it's really a bit hard for us to select the best DSLR for you, because under dollar $500 category we have very limited names.
1. Best DSLRs under $500 – Sorting up Names
We have sorted out some of the best DSLRs available in the market right now for example we have selected the ultra popluar Canon T6 DSLR , at the same time we have also selected the recently announced Nikon D3500 DSLR also falls under $500 range and features very promising specifications. We have selected these two DSLRs under $500 category and among these three we will going to pick the best one for you.
2. How we selected the best DSLR for you ?
See every photographer have their specific set of demands, but we are selecting a DSLR that composed of a lot of features that other dslrs are failed to provide in that particular range. Our main concern or primary preferences image quality and after image quality we are putting our preference to auto focusing system, finally video recording capability and at last the wireless transfer skills of the camera.
3. Now it's time to talk about the set of DSLR under $500 category
Starting with the ultra Popular Canon T6 camera also known as Canon 1300D. Canon T6 or 1300D is one of the most sold entry level DSLR of the world, without a second thought there are lot of people who buy this DSLR and also satisfied with its performance. But, the only reason they are satisfied with Canon T6 performance since they haven't tried out the other options available out there, but we have tried and tested all the options before writing up this article.
Let's talk about the options, the best camera we have in the list among these two DSLRs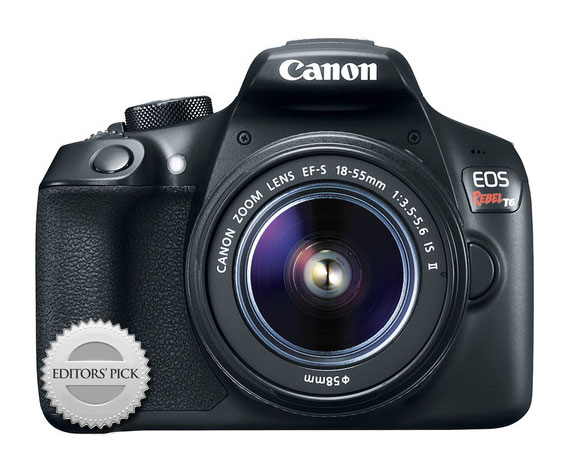 4. Canon T6 / 1300D mini review
We have tried and tested the Canon T6 / 1300 D camera for several days. The image quality failed to impress us for the price we are paying off, the 18 megapixel 7 year old sensor is brought from original 7D camera which looks completely outdated right now. BTW way to have a big respect for Canon DSLR. But for now we do have some other great options falling under the same price range. So, in my opinion after trying and testing out the Canon T6 / 1300 D camera in the year of 2018. I am not recommending you to buy that camera.
Things I like about Canon T6 / 1300 D camera
Canon 1300 D / T6 is a super affordable DSLR. And features Wi-Fi and NFC connectivity.  These two things I really like about this camera first its price and the second is the connectivity features the camera have.
Things I don't like about Canon t6 / 1300 D camera.
The image quality of the camera is really not up to the mark, there are lot of tough competition out there and other entry level cameras outperforming Canon 1300 / T6 while coming at same price range.
Canon T6 camera at B&H Store and Amazon.com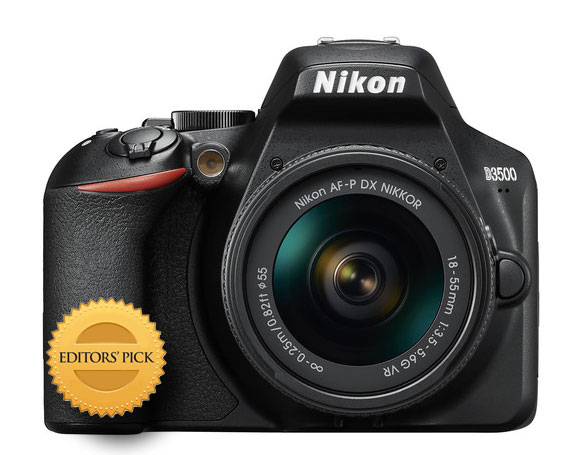 Why we have selected Nikon D3500 camera in our list?  The reason behind the selection of Nikon D3500 camera is it super affordable cost and features very impressive set of Core specification. The Nikon D3500 camera arrives in the same cost of Canon T6 / 1300 D which is approx more than 2+ year old.
5. Why Nikon D3500 camera impressed us,
While using Nikon D3500 camera for a while, we are really impressed with the Core specification of the camera, the camera features 24 megapixel sensor the image quality of the sensor is really very good for entry level DSLR camera. And believe me it's far better than the Canon 1300D / T6 DSLR camera. The dynamic range of the camera, the low light performance as well as the colour output is better than the Canon T6 / 1300D camera.
Auto focusing system of the Nikon D3500 camera is also slightly better than the Canon 1300D / T6 camera. We are getting 11 point Phase auto focusing module where as the Canon T6 remains Limited to 9 point Auto focusing system
Let's talk about the continuous shooting speed of the camera, We are getting 5 frames per second continuous shooting speed with Nikon D3500 camera. As we know Canon T6 + 1300 D camera is limited to three frames per second only.
You can record full HD videos at 60 frames per second which is not possible with Canon entry level DSLR camera is limited to 30 frames per second only. The ISO rating of the camera is also one stop more compared to the can an entry level DSLR camera. We are getting ISO range of 25600 where as the Canon 1300D / T6 limited to 12800.
The biggest advantage that really make us by the Nikon D3500 camera instead of Canon 1300 D is the absence of optical low pass filter…the biggest advantage of not having optical low pass filter built-in is that you are getting 100% sharp images all the time if your shooting skills are correct.
6. Big battery life
Nikon D3500 camera features amazing battery life, with a single charge you can shoot up to 1500 shots without any issue. where is the Canon 1300 / 36 camera shoes less than 500 shots in a single charge.
Now only big issue associated with Nikon D3500 camera is the Bluetooth connectivity. Due to the Bluetooth connectivity the file transfer remains limited to 2MB, that's you cannot get the larger version of your images in your smart devices. That's the only big issue associated with the Nikon D3500 camera
Things I like about the Nikon D3500 camera.
The first thing you like about the Nikon D3500 camera is its image quality due to the new 24 megapixel sensor with better dynamic range battery low light performance and enhanced colour output than any other entry level DSLR present in the market and at the same time the camera also doesn't have the optical low pass filter all these things makes this camera a perfect companion for entry level shooter…apartments image quality that thing I really like about this camera is its big battery life. Once you charge the battery you literally forget to recharge the battery, since it reaches enormous life size of 500 shots.
Things I don't like about the Nikon D3 500 camera
The only thing that I don't like about the Nikon D3500 camera is its wireless connectivity. The camera features Bluetooth connectivity and the Bluetooth connectivity limits your file transfer size upto 2MB only, that is you are not able to get larger version of your files in your smart devices
Buy Nikon D3500 camera from B&H store | Amazon.com
Nikon D3500 camera is composed of all the ingredients we ever wished to be present inside a entry level DSLR under $500 price range.
If you are looking for a perfect entry level DSLR camera, go any buy the Nikon D3500 DSLR.
ALso see – Best DSLR buying guide on youtube
also see – Best Lenses for Nikon D3500