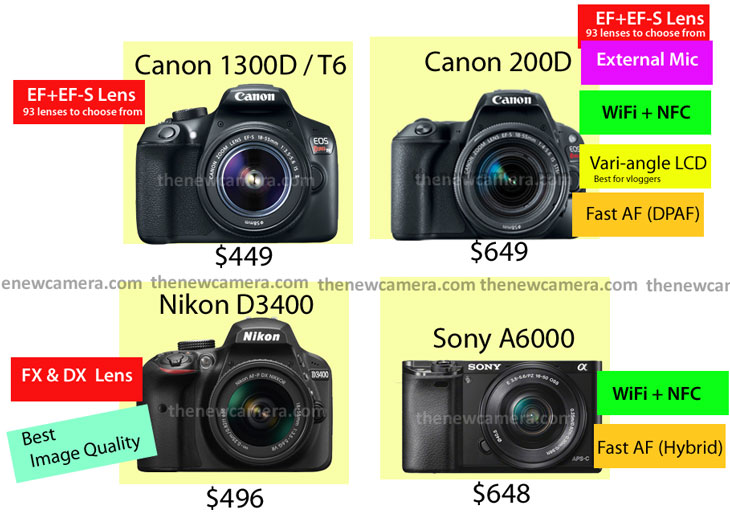 We are taking about the best Best Beginner Camera 2018. Yes we have created a graphics above and with that you can easily understand which camera is best fora entry level Photographer in the year of 2018.
1. When Image quality matters
Yes, We have seen the image sensor of the Nikon D3400 camera is best, Nikon image sensor and image processing algorithms control noise very well at high ISO environment compared to other three camera. But at the same time the Autofocus performance of Nikon lags behind the Canon 200D and Sony A6000.  Get Nikon D3400 from Amazon | B&H —  Also see best Leses for Nikon D3400
2. Best Beginner Camera of 2018
Canon 200D is one of the best camera if you look from a wider perspective, the only entry level camera that features vari-angle screen and external microphone support for pro quality audio recording. The camera DPAF system does a blazing fast AF and if you recording a Still or Video you get super fast AF performance. Get Canon 200D B&H | Amazon — Also see best lenses for Canon 200D
3. Best Entry Level Mirrorless
Sony A6000 is best mirrorless camera for entry level Shooters, but keep in mind the keyword "Best entry level Mirrorless" I am not talking about the best Camera for a entry level users and if you want to know the name of Best camera among these 4 options, ofcourse you can select the Canon 200D. Get Sony A6000 from Amazon.
4. Mr.Affordable
Out of all these 4 camera if you are willing to buy the most affordable one Canon 1300D / T6 is made for you. But again never try to save few bucks when you can get a better camera with a little more saving.
Which DSLR you should buy in 2018 ? As a beginner Photographer ?
Subscribe to FACEBOOK | TWITTER | GOOGLE+ to get live news +  rumors 24X7