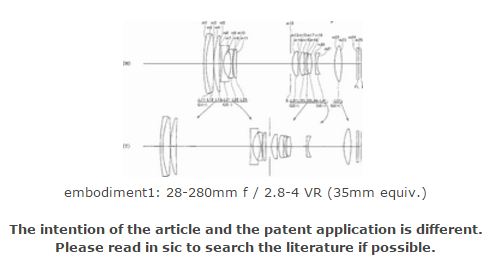 We have just published Nikon 1 mirrorless 9-110mm F2.8-5.6 Mirrorless Lens Patent yesterday (see here), now again a new lens patent surfaced over the web and this time its a 28-300mm equivalent lens for Nikon 1 mirrorless camera.
Translated from  Japanese
Nikon is equivalent 28-280mm equivalent to become 1-10mm F2.8-4 patent is being filed. Excelled in balance 1 "sensor machine it is what you want to expect.
Self-interpretation
Patent Publication No. 2016-156942
Published 2016.9.1
Filing date 2015.2.24
Example 1
Zoom ratio 10.015094
f 1.00000 3.18605 10.015094
FNo 2.88705 3.87123 4.09587
ω 37.97787 13.00106 4.15018
TL 8.81848 8.92665 11.21378
Bf 0.13487 0.13487 0.13488
Nikon patent
Positive and negative positive and negative positive
Inner focus (group 4)
Anti-vibration (third group)
We will bring more updates as soon as possible – See more Nikon Patents