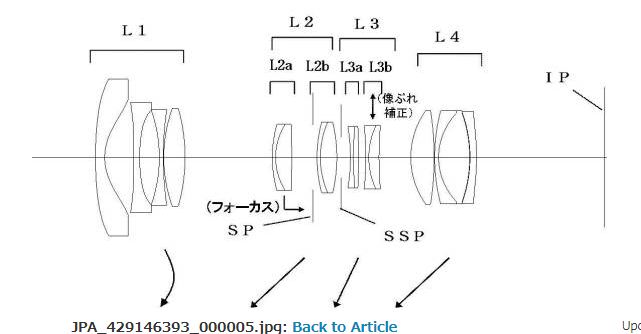 Canon filed a patent for 15-43mm F2-4 Lens for APS-C compact camera. The sensor used inside the Canon G1X Mark III camera is just silently smaller than the APS-C cameras, and if you look at the focal length of the lens it's 15-43mm whereas the current Canon G1X Mark II camera uses lens of 24-120mm focal length, So even if we place the same lens over G1X Mk II camera we will get approx 20-50mm focal length (due to crop factor). it is very clear that the same lens can also used for the G1X series without altering the sensor size of the machine.
Publication date] August 24, Heisei 20 (2017.8.24)
Patent application title: ZOOM LENS AND IMAGING DEVICE HAVING THE SAME
Zoom ratio: 2.74
Focal length: 15.65 29.18 42.90
F No.: 2.06 2.99 4.00
Half angle: 41.12 25.09 17.66
Image height: 13.66 13.66 13.66
Back focus: 8.52 8.01 7.20
PS: In general camera companies do lot of patent and only some of them turn into reality.
Stay with us on FACEBOOK | TWITTER | GOOGLE+ to get live news + rumors 24X7